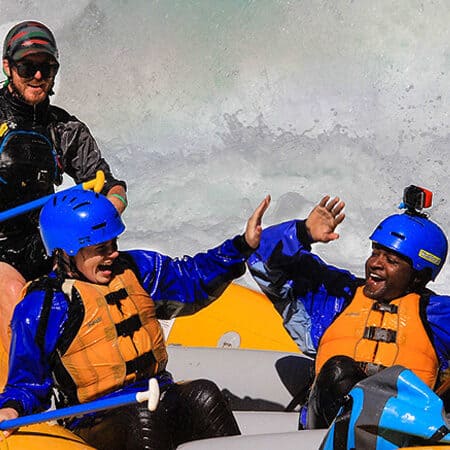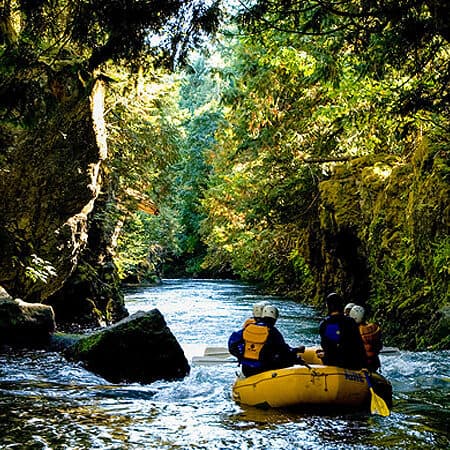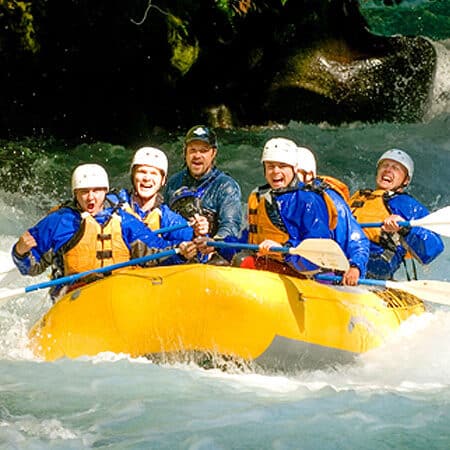 White Salmon River Rafting
A Top Pacific Northwest Destination
Overview
The White Salmon River rafting trip has attracted whitewater enthusiasts for generations. Perfect for beginners and advanced rafters, the river's Class III-IV whitewater rapids challenge even our most experienced veteran rafting guests.
Fed from the glaciers of the majestic Mt. Adams and aquifers beneath surrounding orchards, the river's water runs crystal clear all year long. Once a lava tube, the White Salmon runs through narrow, volcanic basalt canyons before heading out into the warm sunshine of a forested valley.
Protected under the Wild and Scenic Rivers Act, the White Salmon River transports raft guests to a remote wilderness conveniently located just outside of Portland, Oregon. The undeveloped shoreline and inaccessible deep forests invite wildlife to visit the refreshing river, a sight only experienced by rafters and kayakers. Whitewater river rafting on the White Salmon River epitomizes the lush and wild character of the Pacific Northwest in one exciting raft trip!
Our Private Put-In
When water levels are appropriate, we launch all our White Salmon River trips (Half-Day and Full-Day, water level depending) from our private upstream put-in. This exclusive access to "the Upper," 2 miles upstream from the standard public launch site, adds numerous challenging Class III/IV rapids and incredible canyon scenery. An optional cliff jump at the base of BZ Falls adds to the adventure before you even pass the public access point. Escape the summer crowds with Wet Planet's private river access, and run the longest stretch of Class III-IV whitewater available on a standard White Salmon River trip!
Running Husum Falls – The Nation's Tallest Commercially Raftable Waterfall
Along with exciting Class III-IV rapids, the Class V 12-ft Husum Falls (ages 16+ and water level permitting) make a White Salmon rafting trip unforgettable.
A river-wide ledge, Husum Falls has gained a reputation as one of the tallest commercially raftable waterfalls in the country. Depending upon water levels, your White Salmon raft trip will culminate with a heart-pumping vertical plunge. If this sounds like more excitement than you're interested in, don't worry, Husum Falls is optional. If you're more interested in watching the action than being part of it, you are always welcome to walk around Husum Falls and watch from the river banks.
Read More
TRIP REVIEW
---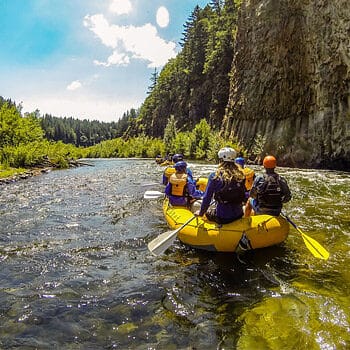 "So Much Fun! We had such an amazing time on White Salmon River with Wet Planet! This was my second time WWR, my husband's first, and they did not disappoint! The trip was a workout, the river was breath taking and the staff was so friendly and professional. We HIGHLY recommend rafting with these guys, and definitely do the waterfall at the end! We will be back!"
- Kayla W. from Tacoma, WA
Read More