Apply for a job and join the Wet Planet team today!
Combine your desire to play outside with your professional skillset and experience – join our team!
The Wet Planet community provides a professional yet informal atmosphere to work. Each year, large numbers of our team return to continue being part of the family. However, we still have a wide range of positions available – from management to marketing, raft guiding, instructing kayaking, driving shuttles, or pouring lattes in the espresso bar. It takes a village to create great experiences for our guests, and we can't do it without our awesome team!
For experienced rafters and kayakers, the White Salmon is the perfect central location in a whitewater paradise, surrounded by an incredible community of boaters. For those new to the whitewater world, working at Wet Planet is a great way to get connected and learn to raft or kayak while working in an off-river position. Whether on or off the river, we love sharing our passion for whitewater and enjoying fun, fulfilling summers with our team!
To apply, check out our "Current Job Openings" and complete your application online. Once submitted, your application will be reviewed and will hear from us shortly.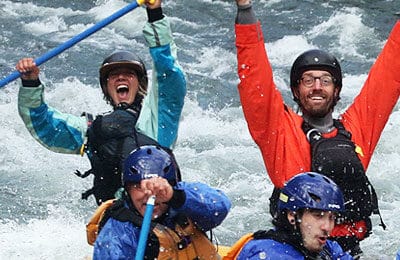 From health insurance to retirement, the best jobs in the world have real job benefits!