First Columbia River Gorge whitewater operator to earn the Eco-Certification through Sustainable Travel International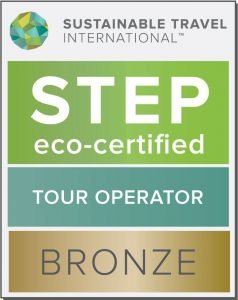 At Wet Planet, it is central to our ethics that we operate in an environmentally, socially, and economically responsible way. We work hard to conduct our business sustainably, allowing future generations to enjoy the river canyons we love and the town where we live. Our commitment to the environment is evident whether we're on the river or making a latte at our espresso bar, and we are proud to be an industry leader in environmentally responsible business practices.
The Sustainable Travel Eco-Certification sets the bar for high standards:
An Eco-Certification helps our guests identify with our business ethics.
An Eco-Certification holds us accountable, requiring specific proof to re-certify us each year.
An Eco-Certification helps us improve our sustainable practices so that we might lead and assist other Columbia River Gorge tour operators in their sustainable business endeavors.
STI holds its certified businesses accountable. After all, it always comes back to ACTION.
In 2012 we received our first STEP 2nd Party Certification. The experts at Sustainable Travel International, a global leader in sustainable tourism development, require us to annually submit a report from the previous years' efforts to help protect the environmental, socio-cultural, and economic value of our home and the planet.
Improvements made to receive STEP 2nd Party Eco-Certification:
Divert as much of our total garbage from going to the landfill as possible
Decrease our energy usage every year
Save enough money from energy bills to pay for our investment in energy reduction
Increase our use of biodegradable products
Develop a composting system with Dirt Hugger, a local business
Serve organically grown coffee in recycled cups in our café
Partner with Leave No Trace, Inc. to help educate other outdoor recreators on the principles of minimal-impact wilderness travel
Host the annual White Salmon Riverfest and Symposium
While the STEP 2nd party Eco-Certification program ended in 2015, we continue our constant recycling, energy-efficiency, composting, and educational efforts to improve our sustainability practices further every year.
At Wet Planet, you may see an employee may roll into work on a bicycle or paddle up in a kayak. You might catch one of us weighing a recycling bag or carrying a box of local produce into our kitchen. These practices are just the beginning. Take a look at our Sustainability Manual in the lobby next time you're here, or ask us about it on your next river trip!
WET PLANET IS A PARTNER OF LEAVE NO TRACE, INC. (LNT)
---
Leave No Trace is a non-profit organization committed to promoting and inspiring responsible outdoor recreation through education, research, and partnerships. The seven LNT principles for wildland ethics have become the standard for human-powered recreation through the support and commitment of public land management agencies such as the US Forest Service, National Park Service, Bureau of Land Management, and the US Fish and Wildlife Service. Through our partnership with LNT, Inc., Wet Planet helps support LNT in its mission to spread important backcountry travel skills and ethics.
Wet Planet Rafting and Kayaking shares in, supports, and practices the LNT skills and ethics. Many of our staff are certified LNT educators. Join us in our effort to Leave No Trace by following these seven simple principles:
Plan ahead and prepare
2. Travel and camp on durable surfaces
3. Dispose of waste properly
4. Leave what you find
5. Minimize campfire impacts
6. Respect wildlife
7. Be considerate of other visitors
FRIENDS OF THE WHITE SALMON RIVER
---
The Friends of the White Salmon River is a local non-profit organization that strives to restore and protect the natural, cultural, scenic, and recreational qualities of the river we all love so much. Helping the river and the surrounding communities to have a stronger voice, FOWS seeks to educate the public and support responsible river practices.
Please consider joining Friends of the White Salmon River for only $15 a year. Your support helps with fundraising and river advocacy initiatives directly benefiting the river and surrounding communities.
WHITE SALMON RIVERFEST AND SYMPOSIUM
---
We understand that sustainability means more than just environmental awareness-it's also about being active in the community. Wet Planet strives to build a strong, mutually beneficial relationship with our local community by sponsoring and organizing the yearly White Salmon RiverFest and Symposium.
Wet Planet, in conjunction with the Headwaters Institute, has been organizing the White Salmon RiverFest and Symposium since 2006. Wet Planet's own Jaco Klinkenberg has been the founder and organizer of the White Salmon RiverFest from day one, each year supported and assisted by many folks from the community. The mission and goal of the White Salmon RiverFest & Symposium organizers are to provide education during a fun and informal event that brings together and inspires individuals within the community to care for and connect with their watershed.
The event included a rafting trip specially designed to bring the local community together and express our gratitude for allowing us all to live, play, and work around this beautiful watershed. To sign up for the float, please call or reserve online.
Outline of events:
Community Rafting trip
Outfitter Community BBQ Event
Showing of Damnation Movie, followed by a panel discussion
Boater Party
More details to follow soon.
LOCAL-SOURCED FARM-TO-TABLE FOOD AND BEVERAGES AT THE WET PLANET CAFÉ & GRILL
---
The food we serve comes straight from local farms and businesses in the Columbia River Gorge. Check out Wet Planet Café's local food vendors and partners and see where your delicious meals and beverages come from:
Our Salmon Tacos and Salmon Sandwich are made with freshly caught fish from the Klickitat River, provided by Wild Columbia Salmon.
The Mountain Shadow Burgers are made with beef delivered directly to us by Mt. Shadow Natural Meats in Dufur, OR – no hormones, no antibiotics, and an all-grass diet.
Buns for our burgers and sandwiches are baked locally by the White Salmon Baking Co.
We smoke our pulled pork right at Wet Planet, with meat from Mt. Shadow Natural Meats.
Our cookie batter comes to us from the White Salmon Baking Co., and cookies are baked fresh at Wet Planet each day.
Seasonal greens for our salads are sourced from Stonework Farms at the White Salmon Farmer's Market.
You'll find a selection of local beer on tap, from brewers such as Everybody's Brewing (White Salmon, WA), Pfriem Family Brewers (Hood River, OR), and Backwoods Brewing (Carson, WA).
Our wines come directly from some of our favorite local wineries: AniChe Winery (Underwood, WA), COR Cellars (Lyle, WA), Naked Winery (Hood River, OR), Syncline Wine Cellars (Lyle, WA) and White Salmon Vineyard (White Salmon, WA).
Lastly, our food scraps go to Dirt Hugger, a local business using organic compost to build soils and potting mixes to create better plants from the ground up.
PARTNERING WITH ZIPCAR TO CUT CARBON EMISSIONS, REDUCE TRAFFIC AND PROMOTE MULTI-MODAL TRAVEL
---
The road to a better world: Zipcar is the world's leading car-sharing network. They have on-demand access to cars by the hour or the day in cities around the globe. Since 2000, their mission has been to create better neighborhoods, so they set out to cut carbon emissions, reduce traffic, and promote multi-modal travel. With over one million members, they lower CO2 emissions by 1.6 billion lbs per year and take away the need for more than 415,000 personally owned cars.
We've partnered with Zipcar to add another transportation option to get to Wet Planet from greater Portland and Seattle.
Visit our Zipcar partnership page to learn more and get our partnership promotion.