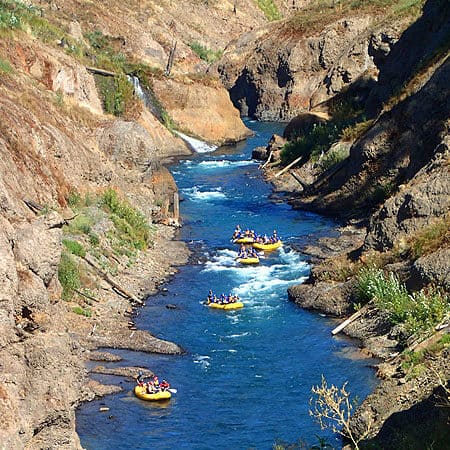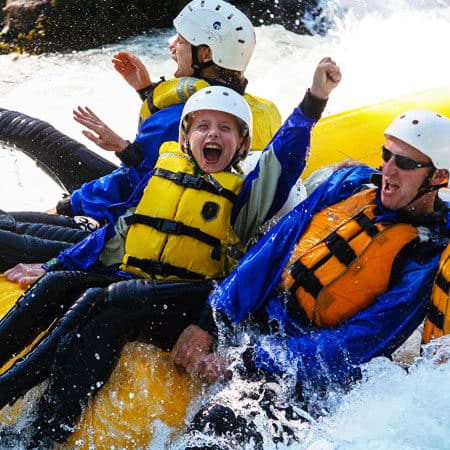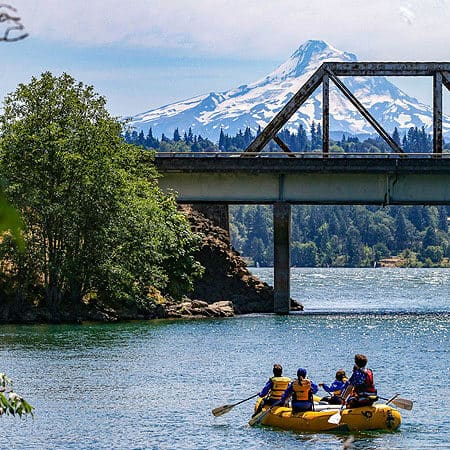 Reserve Now
$155 (Monday through Friday)
$165 (Weekends)
White Salmon River - Full Day
The Northwest's Premiere River Adventure
Overview
The Northwest's Premiere River Trip – White Salmon River Full-Day
Combining a morning of incredible whitewater through our popular Upper White Salmon River and Husum Falls section with an afternoon rafting through the most beautiful canyons of the White Salmon on the Lower Lower section, Wet Planet offers a full-day trip on the White Salmon covering this entire stretch of river. If you want to experience it all, this trip has it:
The Upper section with 2 miles of extra Class III-IV whitewater and a cliff jump at BZ Falls (this section is water level dependent)
The Middle White Salmon, including the option to run 12′ tall Husum Falls (ages 16+ and water levels depending)
A tasty riverside lunch at Wet Planet
A journey through the canyons formed by the previous lake and the historical site of Condit Dam
A chance to see the newly formed Lower Lower section and the spectacular Narrows Canyon before arriving at the Columbia River

NOTE: The first half of the full-day trip, up until lunch, is the same trip as the White Salmon River Half-Day trip.
Fed from the glaciers of the majestic Mt. Adams and flowing through spectacular basalt canyons, whitewater river rafting on the White Salmon River epitomizes the lush and wild character of the Pacific Northwest in one exciting raft trip!
Running Husum Falls – The Nation's Tallest Commercially Raftable Waterfall
Along with exciting class III-IV rapids, the 12-ft Husum Falls (water level permitting) makes a White Salmon Rafting trip absolutely unforgettable. A river-wide ledge, Husum Falls has gained a reputation as one of the top whitewater rapids in the country. Depending upon water levels, your White Salmon raft trip will culminate with a heart-pumping vertical plunge. For many rafters, Husum Falls is a highlight of their White Salmon River trip. If this sounds like too much excitement, don't worry, Husum Falls is an optional rapid for all of our guests. The decision is yours.
The Lower Lower White Salmon River
In October of 2011, PacifiCorp breached Condit Dam, allowing the White Salmon River to flow freely to the Columbia River for the first time in roughly 100 years. The "new" section of the river flowing to the Columbia from what used to be Northwestern Lake has been termed the "Lower Lower" section of the White Salmon River. The canyons and waterfalls that have been revealed in this section provide some of the most astounding and dramatic scenery on the entire White Salmon River. The second half of the White Salmon Full-Day allows guests an opportunity to raft through these spectacular canyons, through the former dam site, and all the way to the Columbia River. While the Lower Lower White Salmon does not contain as much challenging white water as the first half of the day, the scenery and opportunity to float through a naturally restoring river canyon make the Full-Day trip a truly memorable experience.
This is the premiere rafting trip in the Pacific Northwest!
Read More
TRIP REVIEW
---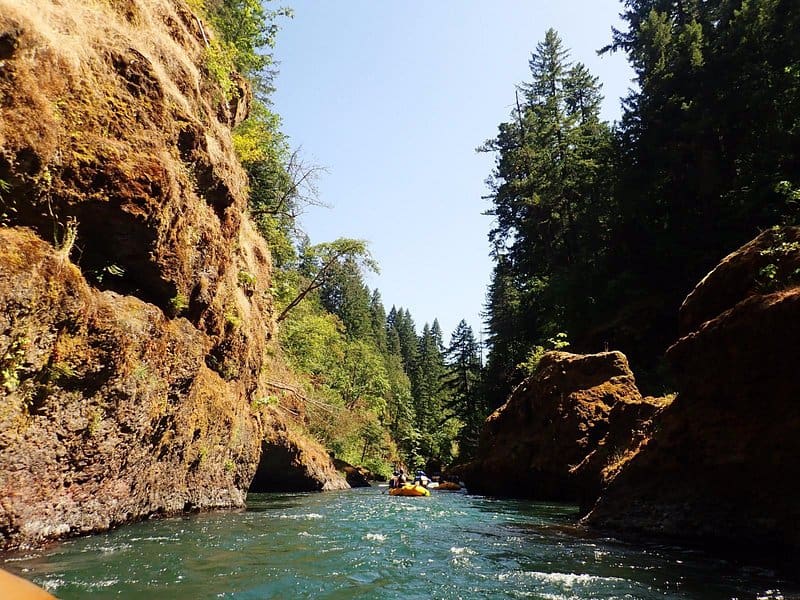 "The full day Wet Planet trip On the White Salmon River was so much fun!!!! My family and I were together in one boat with a guide, and it felt like a small vacation inside our actual vacation. In a full day trip you see the diversity of the nature along side the river, especially the last part towards the Columbia river was breathtaking, like a scene from a movie and all levels of white water excitement (with optional class 4/5 rapids)! In the middle of the trip we stopped for a delicious lunch with all the other boats.After the trip you can stay for a drink and something to eat at the Wet Planet cafe, and they even have photos from the trip which you can buy (including all the faces you make when going down a class 5 rapid), they also have a shop with T-shirts, sweaters and caps with their graphics.I can't wait to join another time, perhaps with a group of friends!"
- Hadewych E. from Laren, North Holland, Netherlands
Read More