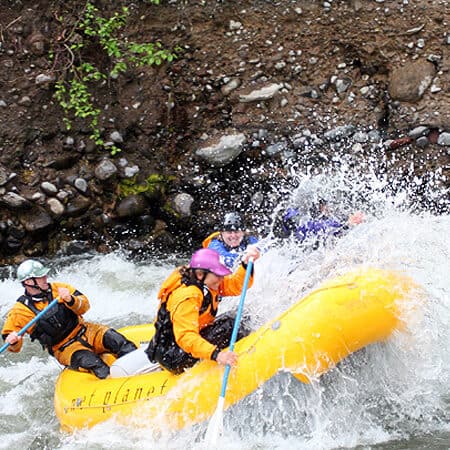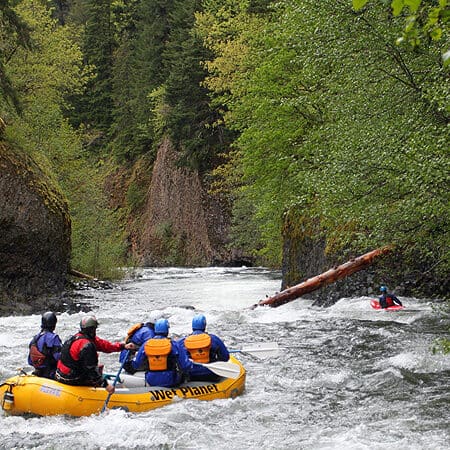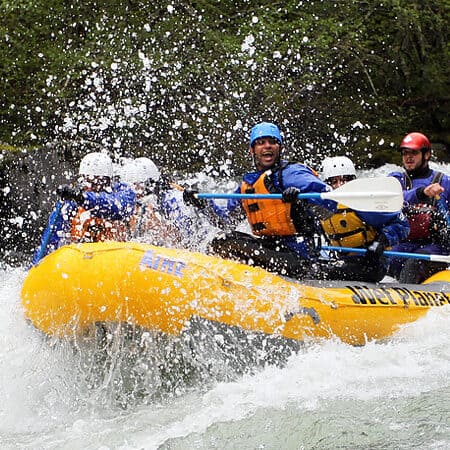 Hood River Rafting
Whitewater Rafting down the Hood River is one of Oregon's most spectacular adventure trips.
Overview
---
7 hours | 15 miles
April - May
Difficulty: Class IV-V (previous experience required)

Includes: Riverside lunch
---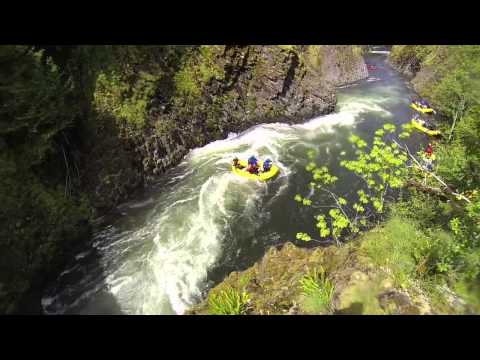 Whitewater Rafting down the Hood River is one of Oregon's most spectacular adventure trips.
Wet Planet is excited to offer spring rafting trips on of our guides' favorite rafting runs in the Columbia River Gorge: the West Fork and Main sections of the Hood River.
These two sections combine for 15 miles of Class III-IV rapids through spectacular Pacific Northwest wilderness. The lush, temperate forests characteristic of the Cascade Range glow with every shade of green: from the Spanish moss dripping from giant Ponderosas to ferns growing from wet canyon walls. The river's headwaters in Mt. Hood National Forest are protected under America's Wild and Scenic Rivers list, ensuring its scenic and remote qualities for future generations.
Whitewater Rafting Trip in Oregon's Mt Hood Wilderness
While many visitors hit the trails and historic lodges within the Mt. Hood Wilderness, few venture down the rivers. Mt Hood's summit is the most visited snow-capped mountain in America. On a raft trip, however, the crowds disappear, leaving you and your river guide to experience the great outdoors in the most pristine way.
A Full Day of Pacific Northwest River Adventure
The trip will meet at our headquarters on the White Salmon River to gear up (we provide wet suits, splash jackets, neoprene booties, PFDs, and helmets). From our headquarters, we shuttle you to the put-in for the West Fork of the Hood River. We first descend the 6.5 miles of the West Fork Hood all the way to Punchbowl Falls, a cauldron formed from Mt Hood's ancient volcanic eruptions.
After enjoying lunch around the waterfall and portaging rafts below, our river will join the Main Fork and East Fork Hood to spend the afternoon on the Main Hood River. The next 7.5 miles of big water fun will be an exciting change from the morning's steep boulder garden rapids. String these two sections together, you get one continuous whitewater roller-coaster.
The Perfect River Level on the West Fork of the Hood River
A trip down the West Fork of the Hood River depends on Mother Nature. This trip opens up during the spring rainy season, pending water levels. We can even put you on our "Water Level Alert" list, letting you know when the river can be run throughout the spring. Just give us a call. We also find that when levels on our Wind River Rafting trips are too high, the West Fork Hood River is perfect.
Read More
TRIP REVIEW
---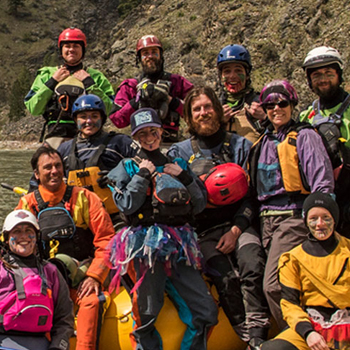 "We ran the Hood River today with Wet Planet. It was an all day trip filled with class IV plus rapids. Alex was our guide, a straight forward fellow who did an amazing job. He communicated clearly, plus I could here all of his commands even in the most hectic of times. We flipped over once in a set of rapids called rude boy. Alex did his job and we all got through it safely, and back on the raft. We recovered and the rest of the trip went smoothly. These guides from Wet Planet are amazing! I recommend trying one of their rafting adventures out. I know that we will be back. -Tracy & Autumn"
- Tracy F. from WA
Read More