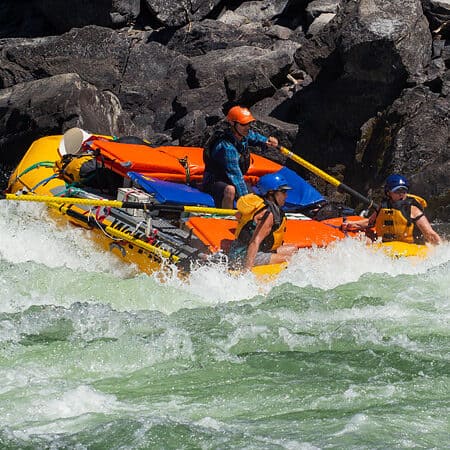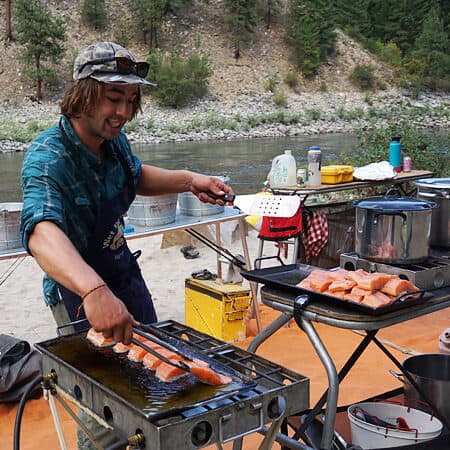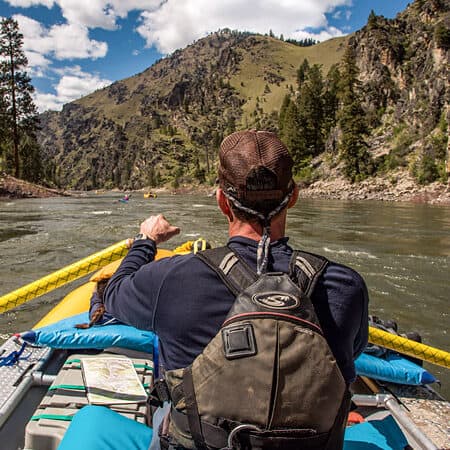 Main Salmon Rowing School
6-DAY WHITEWATER ROWING SCHOOL ON IDAHO'S SALMON RIVER
Overview
---
6 Days | 80 miles
Aug 17-22, 2023
Includes: All meals and group camping gear
---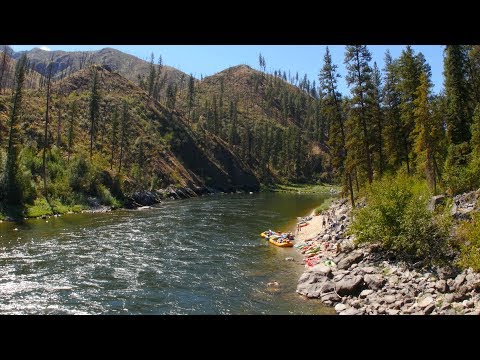 Multi-Day Rowing School on Idaho's Salmon River
While spending six days in Idaho's Salmon River, students will learn the logistics of overnight raft trips while practicing their rowing and guiding skills. The Main Salmon is a stunningly beautiful river flowing through Idaho's Frank Church River of No Return wilderness area, the largest tract of a protected wild landscape in the lower 48 states. It features fun, big-volume class II-III whitewater in an unmatchable wilderness setting, with nights camping on white, sandy beaches underneath the stars – the ultimate classroom for a multi-day rowing school!
Who is the course for? This course is designed for those seeking employment in the river industry and those wanting to learn the skills needed to guide their raft on private trips. You'll spend time rowing paddle-assisted stern mount and center mount gear boats while developing a foundation of rafting and river travel skills that will enable you to lead and organize a successful multi-day river trip.
At Wet Planet, our guides, instructors, and staff have lived and worked in river communities across the United States and internationally. From half-day commercial trips to remote multi-week expeditions, we love being on the river and sharing our river experience with future guides and river travelers.
Wet Planet Rowing School
Objectives:
To gain an introduction to rowing and raft guiding on class III whitewater
To begin developing solid judgment and good decision-making in the whitewater river environment.
To develop the skills needed to plan and implement a multi-day rafting trip.
To achieve a positive and rewarding introduction and immersion into the world of whitewater raft guiding and the community we live, work, and play in.
Course Curriculum:
Fundamentals of hydrology, river terminology, and water reading
Technical skills required to maneuver rafts on a whitewater river
River safety and communication
River etiquette
Basic self-rescue training, including rapid swimming, raft flipping, and throw ropes
Guest service, logistics, and dynamics of a commercial (or private) river trip
Equipment and gear care and maintenance
Risk management
Planning, organizing, and packing for a multi-day river trip
Multi-day river trip group kitchen scene
Lots of hands-on practice rowing and guiding rafts!
Optional: Interested in increasing your river rescue skills? All rowing school students receive 25% off our River Rescue Certification courses in White Salmon, WA.
Employment at Wet Planet: Wet Planet typically has very low employee turnover. Hiring is competitive each season, and we only hire guides with prior whitewater experience. Employment at Wet Planet after successfully completing the rowing school is not guaranteed, and our rowing school should not be considered Wet Planet job training. Employment with Wet Planet depends upon skill level, personal dedication, and the company's needs. For those wishing to work in the whitewater industry after the course, we will help you determine appropriate rivers. Please realize that developing the skills necessary to guide a commercial raft takes lots of practice, even after completing rowing school. While the Main Salmon Rowing School will help provide the skills you need to apply to guide in the whitewater industry, each company you might work for will have its own training process to ensure you learn that particular company's practices and rivers.
For more information on our Rowing School or to make reservations: contact us or book online!
Read More
Itinerary
General Itinerary
*Exact topics, camp locations, and daily river mileage will vary with water levels and river conditions.

ARRIVAL DAY IN SALMON
Arrive in Salmon, Idaho, the day before your scheduled launch date and check in to your hotel. We will have a pre-trip meeting at 7:30 PM at the Stagecoach Inn the evening before your scheduled start date. See "Getting There" for detailed information on getting to Salmon. During the meeting, we will discuss the trip, check out gear, help with packing, cover any last-minute details, and answer any questions you may have.
LAUNCH DAY
Our shuttle vehicle will meet us in the morning at the Stagecoach Inn for our scenic drive to Corn Creek, our launch point on the Main Salmon River. From here, we'll begin our journey into the river classroom of Idaho's canyon landscape, where you'll have the first introduction to reading water, beginner rowing techniques, and basic river terminology. We'll run exciting rapids our first afternoon, including Rainier Rapid and Alder Creek Rapid, putting your rowing skills to the first test. Pulling into the evening campsite, you'll learn how to set up a multi-day camp kitchen and groover. We'll spend time in the "camp classroom" learning more about what makes whitewater, river features, classification of whitewater, and more. After the day's work, you'll have the opportunity for short hikes, games, or just pure relaxation with a camp chair, a book, and your toes in the cool water. With beach games, a hearty dinner, stories by the fire, and a starry sky, we'll all rest peacefully to await another great day on the water.
On the river:

Introduction to reading water
Introduction to beginner rowing techniques
Basic river terminology

Camp Classroom:

Introduction to unloading boats
Set up kitchen, groover, and sleeping area
Kitchen lesson – sanitation, set up, wings, use, coolers, dishes, clean up, Leave No Trace principles, and micro trash
Groover lesson – set up, use, pee bucket, Leave No Trace, clean up, and toilet paper
Reading water – hydrology, whitewater classification, river features, river terminology, and squaring up
RIVER DAYS
Each day will bring new sights and adventures, but our routine will be relaxed and predictable. Coffee and hot beverages will be served as you rise from the comfort of your tent or your sleeping spot beneath the stars. Rise and shine surrounded by pristine mountain scenery and the faint lull of the river's flow. After a hot breakfast, you'll learn how to pack the rafts and prepare to launch for another day's explorations. We'll navigate through classic whitewater rapids, float and swim in serene stretches of meandering river, and even stop at hot springs. Days could include hikes through mountain meadows to see historic cabins from early settlers and rock drawings from ancient cultures. We'll choose a cozy, shady spot for lunch to recharge our adventurous spirits. As the sun dips lower, we'll pick our home for the night, balancing the need for shade during the hottest summer afternoons and more time playing in the river's warmer water.
Morning Camp Classroom: 

Breaking down camp
Packing the kitchen & groover
Packing personal gear
Leave No Trace
Beach sweep
Rigging and packing rafts

On the river:

Recognizing river features
Equipment

Frames – Stern mount/paddle assist, center mount, and catarafts
Oars – Types, size, and adjustment
Towers
Locks – pins, clips, rings, and horns
Stays, stops, and leaves
Rights
Leashes
Spare gear

More introduction to rowing

Pulling
Portegee
Turning
Shipping
Downstream oar
Blades
Use of body
Feathering

Evening Camp Classroom: 

Ferrying
Catching and leaving eddies
Paddle-assist vs. center mount

Use of paddlers
Paddle commands

Signaling
River etiquette

Right-of-way
Interactions with others

Locals
Kayaks
Groups
Fishers
Private land

Trip format
Trip awareness
On the river:

River etiquette in action
Trip format and spacing
Trip awareness
Catching/leaving eddies
Ferry angles
Signaling
Reading water

Camp classroom: 

Rescue

Self-rescue
Aggressive swimming
Wading
Throw bags
River hazards
Flipped boats
Foot entrapment
TAKE A RIVER RESCUE COURSE!
On the river:

Scouting
Advanced rowing techniques

Ruddering
Feathering
Side-slipping
Shipping oars

Camp classroom:

Boat care

Inflation and deflation
Sand
Storage
Cleaning
Rolling
Loading & unloading
Outfitting
Know your boat
Repair
On the river:

Practical use of new skills
Rowing, rowing, rowing!

Camp classroom: 

Getting stuck
Pins
Broach
Z-drags
RIVER AND TAKE-OUT DAY
After a final tasty breakfast, we'll pack our bags at camp and rig the rafts before pushing off for one more day of floating through the Salmon River wilderness. Our final day brings the famous Chittam and Vinegar rapids – your last chance to demonstrate your new rowing skills. At the Carey Creek take-out, we will unload rafts, get changed into dry clothes, and prepare for your shuttle ride to McCall, Idaho. We'll enjoy a final lunch together before saying goodbyes to each other and the magnificent Salmon River. A two-hour shuttle drive will take you away from the canyon, and you will arrive in McCall, Idaho, in the late afternoon.
Make your next vacation a multi-day river trip on Idaho's famed Main Salmon River for fun whitewater rapids, white sand beaches, delicious food, and plenty of stories to take home.
Dates & Pricing
2023 Course Dates
6-Day Main Salmon Rowing School: August 17-22, 2023
Pricing
$2,295 / person
What's Provided
Transportation to the river from Salmon on the first morning of the trip
All meals on the river, from lunch on the first day to lunch on the last day
Rafts, paddles, and instructors
River equipment, if needed: personal floatation devices (PFDs), helmets
All camping gear not listed in the personal packing list: group gear, kitchen equipment, sleeping pads, camp chairs
Dry Bags for your personal belongings (1 large bag and 1 small bag)
Beverages, including water, OJ, lemonade/Gatorade, coffee, tea, hot cocoa, hot cider (you can BYOB, too!)
Transportation from the river to McCall on the last day of the trip
What You Are Responsible For
Transportation to Salmon, ID, before the trip and from McCall, ID, after your trip
Lodging in Salmon the night before the trip and in McCall the night after your trip
Personal clothing and miscellaneous gear (see Packing Guide for suggestions)
Personal beverages (feel free to bring canned versions of your favorite drinks. No glass, please. If you would like to bring wine, please make sure it is in a box or bag. Liquor can be transferred into plastic or aluminum bottles for safe transport.)
Food Allergies and Dietary Restrictions
Beyond our standard menu, we can provide options for medically-necessary allergy-restricted diets for a supplemental menu fee of $100/person. However, we cannot always offer the same diversity or sophistication for restricted diets as our regular menu. Similarly, certain allergen-free snack foods are difficult or impossible to source in rural locations, so feel free to bring your favorite snacks to supplement our provisions. Due to the constraints of cooking for a large group in a wilderness setting, the availability of ingredients or specialty items in remote locations, and limited packing space, we are unable to cater to dietary preferences (likes or dislikes). Please keep in mind that by selecting a restricted diet, you are committing to eating specially-made meals for the duration of the trip. We only bring enough of our standard meals for those without restricted diets, so changing diets mid-trip will not be accommodated.
We cannot guarantee that cross-contamination from allergens will not occur during meal prep. If this is a consideration, please get in touch with us to discuss the potential for a medical emergency caused by a severe food allergy.
Available To Rent

Sleeping Bag
Synthetic and comfortable!
$25
Rain Gear
Rain jacket
Rain pants
$25
Wet Planet Comfort Kit
Sleeping bag
Rain jacket
Rain pants
Small camp pillow
Groundsheet
$40
For additional trip details, give us a call at 1-877-390-9445. We would love to answer any questions you might have.
Logistics
Where To Stay Before & After Your Trip
You will need to plan on reserving lodging in Salmon, ID, the night before your trip and in McCall, ID, the night after your trip.
Salmon Lodging
The Visit Salmon website is a great spot for information.
We recommend:
McCall Lodging
You will need to make reservations for a hotel in McCall the night after your trip.
You can find options for lodging in McCall at www.allmccalllodging.com.
We recommend:
Location and Directions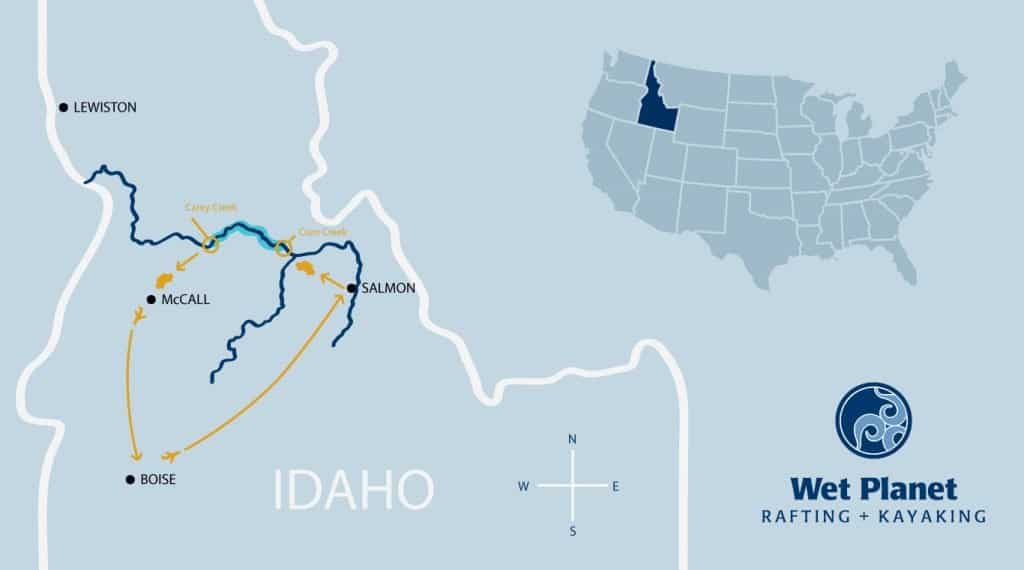 Getting to Salmon
Flying
Leg 1: Fly to Boise, ID
Leg 2: Reserve air-taxi to Salmon no later than 5:00pm
Air Taxi:
Gem Air: (208) 756-7382, gemairflights.com
Driving
Drive times to Salmon, ID:
Portland: 11 hours
Seattle: 10 hours, 15 minutes
Missoula: 2 hours, 45 minutes
Boise: 5 hours
Idaho Falls: 3 hours, 15 minutes
Flying & Renting A Car
If you rent a vehicle at the airport and drive to Salmon, you will need to have your vehicle shuttled to McCall.
If you are renting a vehicle at the airport, make sure you request an "Additional Driver's Form" from the rental agency. You will need to fax this to River Shuttles.
Vehicle Shuttle
Shuttle from Salmon to McCall:
River Shuttles: (208) 756-4188, rivershuttles.com
Getting Home from McCall
Flying
Reserve air-taxi to Boise from McCall (we recommend the morning after your trip)
Air Taxi:
Gem Air: (208) 756-7382, gemairflights.com
Driving & Vehicle Shuttle
Drive Times from McCall, ID:
Portland – 7 hrs 30 mins
Seattle – 8 hrs
Missoula – 5 hrs 15 mins
Boise – 2 hrs 15 mins
Idaho Falls – 6 hrs 15 mins
*Don't forget to schedule your car shuttle
River Shuttles: (208) 756-4188, rivershuttles.com
Travel Insurance
Sometimes stuff happens. We highly recommend that you purchase travel insurance to guard against life's surprises (unexpected late cancellations, travel delays, medical emergencies, etc.).
Past Wet Planet guests have reported good experiences using Travel Guard (www.travelguard.com) and Travel Insurance Services (select.travelinsure.com).
Make your next vacation a multi-day river trip on Idaho's famed Main Salmon River for fun whitewater rapids, white sand beaches, delicious food, and plenty of stories to take home.
For additional trip details, give us a call at 1-877-390-9445. We would love to answer any questions you might have.
Packing Guide
Weather on the Main Salmon River can vary from hot sun to cool evenings and occasional rain showers. Here's your guide to come prepared for your multi-day outdoor adventure.
Everyone will receive dry bags for your belongings to keep them dry while on the river. What you put in your dry bags is all you will have for your trip, so here are our tips:
Layers
Mornings and evenings can be cool and are hot during the day (until the sun hides behind a cloud, and you'll want to reach for a layer to throw on to keep warm). Whether on a raft or a beach, be prepared for changes in weather by always thinking in "layers."
Synthetic (or wool) Fibers
Your warm layers should be made from wool or synthetic fibers like Capilene or polypropylene. These will dry fast and keep you warmer when you get wet. Cotton is not recommended.
PFD & Helmets
If you don't have your own, everyone will be provided with gear for on the water. This gear will include a helmet and PFD (personal flotation device).
Essential Gear
Sleeping bag (available for rent for $25)
Rain Jacket and Pants (available for rent for $25)
One pair of shorts for camp and hiking
One or two T-shirts
One set of comfortable long-sleeved light clothes (for sun and camp)
Pants for camp (can be same as above)
Synthetic thermal underwear layers (top & bottom)
Fleece or pile top for camp (top can be pullover or jacket)
Swimsuit
River shoes: sandals with a heel strap (Chaco, Teva, etc.) or old running shoes. No flip-flops or slip-ons.
One pair of lightweight hiking shoes (for off-river in good weather)
Toilet articles (biodegradable soap)
Wool or polypro/Capilene/fleece socks (stay away from cotton)
Shade hat/visor (baseball cap)
Warm hat and gloves for camp
Plastic bags for wet/dirty clothing
Sunblock/moisturizing lotion
Chapstick with SPF
Insect repellent
Sunglasses with securing strap
Water bottle with securing strap (1-liter minimum, more if hiking)
Flashlight/small headlamp & extra batteries
Personal medications
Toiletries/small towel, etc.
Optional Items:
Camera
Binoculars
Diary or sketchbook
Book
Small daypack or fanny pack for hikes
Paddling jacket and pants
Small travel pillow
Musical instrument
Liquor, beer, or wine: you will need to provide your own alcoholic beverages! See below for details!
Optional Rental – Wet Planet Comfort Kit: sleeping bag, rain jacket, rain pants, small camp pillow, groundsheet ($40)
All river gear, group camping equipment, and meals are provided
Beverages
Wet Planet will have coffee and tea ready for you every morning. Water and lemonade/punch/Gatorade will be available throughout the day. At dinner, hot drinks will be available (hot cocoa, hot cider, tea), and a bottle of wine for the group.
If you would like additional personal beverages at camp, such as soda, beer, wine, liquor, etc., you're welcome to bring your own. We will have a cooler with us to put beverages in. No glass bottles; broken glass and rafts don't mix! Wine should be in bags/boxes, and other adult beverages can be transferred from glass bottles to plastic or aluminum containers before taking them on the river. Personal drinks can be purchased in Salmon before the trip if needed.
Gratuities
Your guide team will work hard to ensure your river experience exceeds your expectations. If you had a fantastic trip and feel your guides did an incredible job, post-trip gratuities are an appreciated way of saying "thank you." Tips commonly range from 5 to 15 percent of the trip cost but should always be based on your satisfaction, financial comfort, and personal attitudes about gratuities. It is common to leave gratuities with the lead guide at the end of the trip, and they will distribute them among the team.
Make your next vacation a multi-day river trip on Idaho's famed Main Salmon River for fun whitewater rapids, white sand beaches, delicious food, and plenty of stories to take home.
Frequently Asked Question's
What are the bathroom facilities like?
I'm going to stink if I don't shower for 6 days. What do I do?
Take a river shower! Swimming in the river is the easiest way to feel refreshed each day. You can even put your chair in the water while enjoying an afternoon beverage. If you want to wash with soap, please bring biodegradable, eco-friendly soap, such as
Dr. Bronner's
, and a
microfiber washcloth
. If you choose to wash with soap, you will take a bucket of water away from the river (it's essential to keep all soap out of the river!) and do some personal cleaning.
What kind of boats do you bring?
What kind of food are we going to eat?
Often, folks think we'll be eating backpacking meals the whole time. That's not the case! From blueberry pancakes with bacon to fresh vegetable wraps at lunch to steak dinner, you will be blown away by the food on your trip. With our delicious menu, you'll eat better out on the river than at home. Take a
sneak peek at our multi-day menu
!
What if I have food allergies?
We can accommodate a wide range of food considerations. Beyond our standard menu, we can provide options for various dietary restrictions for a supplemental menu fee (details can be found on the Dates & Pricing tab). Make sure to complete your online trip registration early so we know what modifications we need to make to our menu! If you have any questions about our menus and your dietary needs, feel free to give us a call.
Can I bring personal beverages?
While we supply plenty of water, tea, and coffee, most people have their favorite beverages that they enjoy when they are on vacation. If you would like additional personal beverages at camp, such as soda, beer, wine, liquor, etc., you're welcome to bring your own! Please do not bring glass bottles; broken glass and rafting don't mix! Wine should be in bags/boxes, and other adult beverages can be transferred from glass bottles to plastic/aluminum containers before taking them on the river. Personal beverages can be purchased in Salmon before the trip if needed.
What are the average temperatures on the Main Salmon?
Typical Temperatures on the Main Salmon:
MONTH / DAY (°F) / NIGHT (°F) / WATER
June: 55°-90° / 45°-65° / 45°-58°
July: 60°-100° / 60°-75° / 55°-65°
August: 70°-100°+ / 55°-70° / 65°-68°
September: 50°-95° / 40°-60° / 50°-60°
What are the sleeping arrangements?
Tents: We provide SPACIOUS tents. We assume people reserving together will be sharing two to a tent. If you are traveling alone, you'll have a single tent. Your guides will demonstrate how to set them up on the first night and assist you if you want the extra hand.
Sleeping Pad: The sleeping pads provided are plush, river-specific sleeping pads. These are not your average car camping pad! They are filled with 2-3 inches of foam and are incredibly comfortable.
Sleeping Bag: You can rent sleeping bags for $25/person, or you can bring your own.
Comfort Kit: The Wet Planet Comfort Kit is available to rent for $40/person, and contains a sleeping bag, rain jacket, rain pants, small camp pillow, and ground tarp.
I'm rafting solo, do I have to share a tent?
We will provide a solo tent. Don't worry, they're still spacious!
What size are the dry bags you provide?
We provide two dry bags per person. A large 110L dry bag will hold items you only need at camp and be packed away during the day. Think of this like your "checked luggage" on a plane. A smaller 10L day bag will hold items you would like access to during the day, such as sunscreen, extra layers, and anything you want to keep available while on the rafts.
I have back pain. Will I be OK on this trip?
We always recommend checking with your doctor for any physical considerations since they know your personal situation and can provide medical counsel! For back pain, a good measure is whether or not you are comfortable in a seated position for 2-3 hours at a time. If you would like additional back support while on the river, you can bring a Crazy Creek Chair or something similar without metal. Or ask us what we can do to help you remain comfortable in the rafts. Please inquire about additional accommodations if you have difficulty getting up from the ground from a lying position.
Can we go fishing?
You're welcome to go fishing at camp and fish off the rafts in calmer areas when permitted. Common fish you might catch are steelhead, Chinook salmon, and bull and cutthroat trout. The Idaho Department of Fish and Game requires anyone over 14 years old to have a fishing license.
How do you communicate with the outside world in an emergency?
We carry a SPOT satellite texting device and a satellite phone for emergency communications. Please note that these devices are used for emergencies, not non-emergency contact with the outside world. Your guides won't drain the battery on the satellite device to check the score of the playoff game your favorite team is in.
If an evacuation is needed, it depends on where we are on the river, but the options are to continue rafting downstream, call for a helicopter or plane, or request a jet boat evacuation. Our multi-day guides are Wilderness First Responders, trained to manage injuries and medical emergencies in the backcountry and determine when an evacuation is warranted.
While evacuations are uncommon, it's important to note that even with modern communication devices, evacuations in the remote backcountry can be lengthy and sometimes take more than 24 hours.
Where should I stay in Salmon and McCall?
We recommend the Stagecoach Inn in Salmon since we meet there for your pre-trip orientation the night before your launch. However, there are other options available too! Check out our suggested Lodging in Salmon & McCall and Camping in Salmon & McCall. We recommend making your reservations early to guarantee the lodging of your choice.