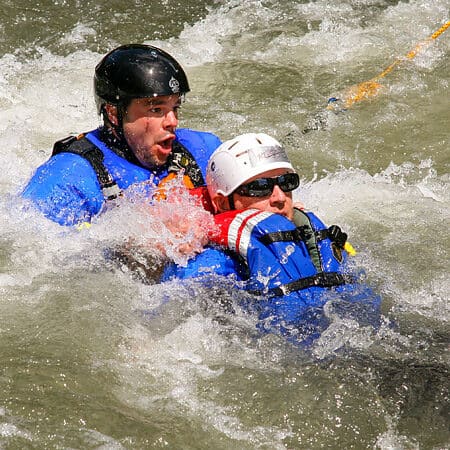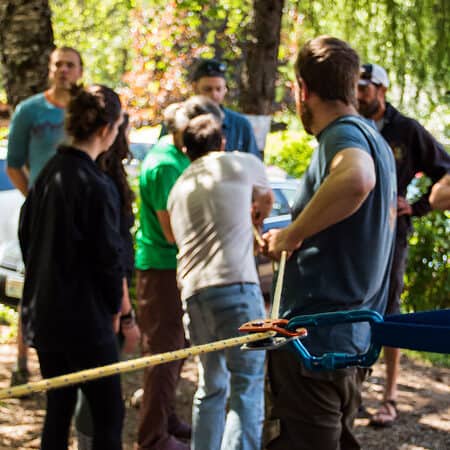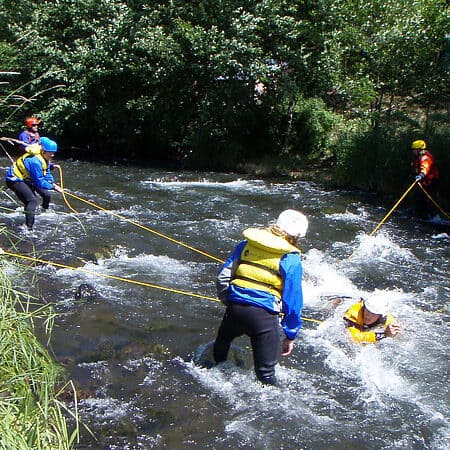 2-Day River Rescue for Boaters, by Boaters
RRC Certification Provided by Sierra Rescue International
Overview
---
Requirements: No rescue experience required, must have whitewater boating experience

Certification: RRC certification through Sierra Rescue International
---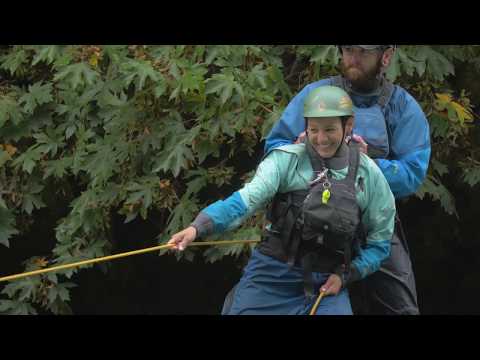 2-Day River Rescue for Boaters, by Boaters
RRC Certification Provided by Sierra Rescue International
Taking river rescue training for boaters to a new level, the 2-day River Rescue Certification (RRC) course is a hands-on, scenario-based rescue course designed specifically for whitewater boaters: kayakers, rafters, cat boaters, SUP paddlers, river boarders, and canoers. Students will receive internationally recognized certification through Sierra Rescue International.
River rescue skills should be a pre-requisite for anyone boating on any river anywhere!
This fast-paced course emphasizes on-river scenarios to help students develop the ability to choose good actions when a river rescue becomes necessary. Taught by paddlers who spend a good portion of their lives on whitewater in a professional capacity, this course will focus on quick, efficient, low-tech techniques for rescue that utilize the basic gear that you are likely to carry with you on the river in your boat. Focusing on rescue scenarios you will likely encounter while paddling, students will practice rescue techniques through various on-river scenarios.
Who this course is ideal for: The course is perfect for private paddlers (kayakers, rafters, cat boaters, etc.). The course is also appropriate for professional river guides who have never taken a River Rescue Course. Fire and SAR personnel should take the NFPA-compliant Swiftwater Rescue Technician Unit 1 (SRT-1) course. DWR, Fish and Game personnel, environmental consultants, fisheries biologists, and other professionals who work around streams and rivers should also consider the Whitewater Rescue Technician (WRT).
What Makes the RRC Different
Higher pace and intensity of exercises: Everything in class will be designed to challenge folks that spend time paddling in whitewater rivers. Scenario-based learning will challenge students with realistic rescue situations.
2-day format: Although this course does meet NFPA Swiftwater Rescue certification requirements for many agency personnel, the 2-day design makes the course more affordable and accessible for paddlers who don't necessarily need the night scenario or third day of training and skill assessment found in the RRC-Pro (geared toward advanced professional river guides and instructors).
Low-tech rescue skills: We know that the gear kayakers and rafters carry differs from those carried by Search and Rescue professionals. There is no reason to train for rescues with 250 ft of static line that could never be carried in a kayak. For this reason, the RRC river rescue course focuses on rescue techniques that can be performed with minimal amounts of gear that paddlers actually carry, emphasizing skills, decision-making and judgment, and creative solutions to rescue problems.
The RRC is the perfect river rescue course available specifically for rafters, kayakers, and anyone else who spends time paddling whitewater!
The cost: $300 for certification by Sierra Rescue International. Lunch is not included, but feel free to bring your own. The Wet Planet Café has an assortment of delicious hot or cold sandwiches and other tasty offerings available for purchase.
Requirements: A solid foundation of river paddling skills
Read More
TRIP REVIEW
---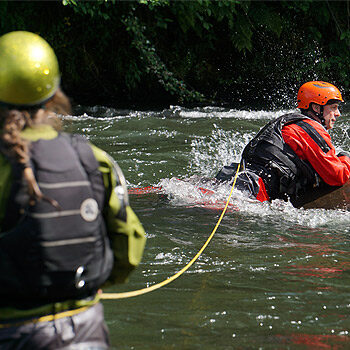 "Took the water rescue class. Dave was super knowledgeable and kept things interesting and as hands on as possible. Seamus was hilarious and a wizard in the water."
- Dan A. from St. Helens, OR
Read More