ABOUT ME
---
Growing up in Quincy, California, Whitney was lucky to have friends who brought her family rafting and eventually taught them how to kayak. Rumor is, you could find her crying on the side of the river when she wasn't allowed to run a "big one." After a couple of years of half-heartedly learning to kayak, she became truly hooked during her junior year of college and has not stopped progressing. Whitney began guiding and support-kayaking on Idaho's Payette River in 2022 while taking a break between undergrad and grad school. Whitney's kayaking highlights include the Pine Creek section of the Arkansas River and Bailey Creek in Colorado, The New and Gauley Rivers in West Virginia, and the North Fork Payette in Idaho. The North Fork of the Feather and its tributary Spanish Creek in California also hold sentimental significance for her.
Now a full-time graduate student studying speech pathology at Portland State, Whitney spends the winter just barely squeaking by, occasionally making time for a cold lap on one of the many rivers in the Columbia Gorge. One of the cold days of kayaking on the Hood River led to a chance meeting, the gift of a brownie, and a subsequent job offer to join Wet Planet! While she excels in the classroom, Whitney feels most inspired and at home in the mountains with people who share her quiet enthusiasm for wild places. Whitney thu-hiked an impressive 800 miles on the Arizona Trail in the Spring of 2022 and is also an excellent baker!
We are excited Whitney is joining our talented group of kayak instructors this season. Her ability to teach and welcome people into the local paddling community that has been so welcoming to her will surely leave our students eager to make kayaking and Wet Planet a big part of their summer.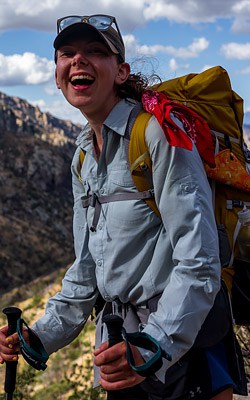 Read More