ABOUT ME
---
Hailing from a place like Missoula, MT, it is unsurprising Spencer made his way into guiding whitewater rafting trips in 2021. Spencer cut his teeth commercially guiding the challenging Poudre River in Colorado while seeking out other famous rivers like the Lochsa, the Colorado through Grand Canyon, the Salmons in Idaho, and the mighty Zambezi.
With the myriad of outdoor opportunities Montana offers, Spencer did a little bit of all of them! Biking, rock climbing, backpacking, skiing, and fly fishing dominated a childhood that never seemed to stagnate. When an opportunity to jump on a rafting trip down the Main Salmon came to Spencer, he jumped at the chance to try something new. This turned out to be one of those remarkable experiences that it was evident Spencer needed to start guiding whitewater. Splitting time between working as a lift operator at Montana's Yellowstone Club during the winter and guiding during the summer, Spencer is living his dream of spending as much time outdoors as possible.
Having gained so much fulfillment from traveling and experiencing wild places, Spencer relishes the opportunities guiding provides. The opportunity to take people out of their comfort zone, reconnect with nature, and find the same love of the outdoors that has been such a massive part of his life.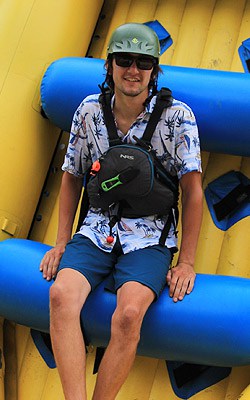 Read More
What Guests Say About Spencer
"First time doing white river rafting and it was an amazing experience!!! I can't wait to go back!! Spencer and Durham were awesome!!!" – Jenny (Tripadvisor, 5/30/23)
Read More