ABOUT ME
---
Paul Butler has been Wet Planet's Kayak School Manager since 2022, sharing his love of paddling, wrangling a team of kayak instructors, and generally staying on top of our kayak program.
Born in Chicago and raised in Kansas City where he graduated college with a Business degree. After College, Paul Moved to Knoxville, Tennessee where he, for the first time, had unlimited access to mountains and rivers. Having this access triggered a passion for the outdoors and later for whitewater kayaking. Since then, Paul continuously follows the rivers and has been kayaking for over 25 years. Paul has had the opportunity to explore all that the southeast had to offer, kayaking extensively in the southeast and mid Atlantic regions.
In 2014 he moved to Colorado where he stayed for 7 years, but after his corporate accounting job ended in 2017 (and with 2 children raised), he decided not to spend the rest of his life in an office. Paul bought a van to live in and obtained his ACA Kayak Instructor certification at Rocky Mountain Outdoor Center. Ever since, Paul has been teaching kayaking, guiding inflatable trips, and guiding mountain bike rides.
He really enjoys teaching and sharing his appreciation of the outdoors with others. In the off seasons, you can find Paul mountain biking through Colorado, floating down the Grand Canyon, or hiking the Pacific Crest Trail!
Paul has his ACA level 4 kayak certification, Wilderness First Responder Certification, and RRC Pro. Join Paul on the river for beginner or advanced kayak instruction this summer!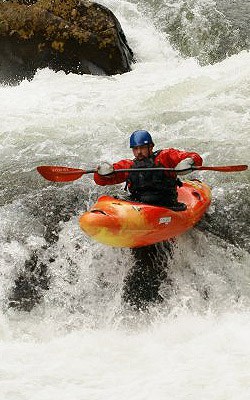 Read More
What Guests Say About Paul
"I took the three-day beginner course with Paul and Mattie, who were extremely knowledgeable, approachable, patient, enthusiastic, generous, and responsive. I was beyond impressed with their one-on-one attention and analysis of each member of the group. Questions were always welcome, taken seriously, and answered fully. Safety was always uppermost in their minds, and we were completely confident in them even when the water abruptly converted us from kayakers to swimmers. I cannot more highly recommend a Wet Planet course!" – Carla R., Tripadvisor

"We did a 3 day intro to whitewater kayaking course with instructions Paul and Naomi. We went from absolute noobs to navigating a class III rapid in this short time thanks to their expert instruction. The course was comprehensive covering things like gear, safety, reading the river and of course manipulating your kayak. The passion for the sport and deep knowledge was evident in both instructors who freely shared their knowledge. Despite this being a group course they paid attention to each individual giving us feedback to help speed our learning. I highly recommend this course to anyone curious about the sport, I can't imagine having a better experience than this one." – alstrand777 from Bonsall, CA (Tripadvisor, 8/23/22)
Read More