ABOUT ME
---
Morgan grew up on the Eastern outskirts of Washington State near Spokane, which is responsible for where his love for the water started. He grew up spending all of his summers camping on the shores of Lake Pend Oreille which inspired him to save up enough money to buy himself a lake kayak, which he immediately tried to flip upside down and roll back up.
Morgan would eventually go on to take his first river job as a river trip photographer which then moved into a multi-day guide role, sharing his time between The Wild and Scenic Hells Canyon section on the Snake River and The Wild and Scenic Main Salmon River. Morgan is a Wilderness First Responder and Level 4 Swift Water Rescue certified.
When Morgan is not working on the river he can be found playing guitar, taking pictures and videos, and doing personal river trips. In the wintertime, he works as the Lead Technician in the High-Performance Center Ski Shop at Mt. Hood Meadows with aspirations of joining the Ski patrol. Morgan enjoys all things outdoors and is always excited about an adventure.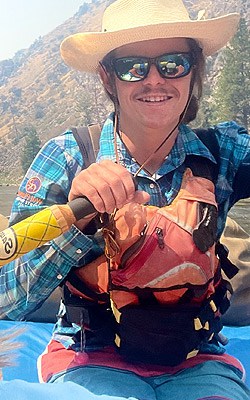 Read More
What Guests Say About Morgan
"1000% recommend these kayaking courses. According to the WP kayak levels listen online, I was either a Beginner or Novice. I can't stress enough how helpful the Beginner 2-day was for me. I learned the "basics" but never felt bored. Skills were a challenge but totally doable and I felt so supported by the instructors. They did a fantastic job at encouraging me while pushing me to grow and answering my endless questions.

By the end of Day 2, I was a totally different paddler than the start of Day 1. Whitewater kayaking is still scary but I'm WAY less scared and more confident in everything from technique to swimming to even carrying my boat. On the backend, WP's communications and admin were super helpful, too.

HUGE shout-out to Morgan and Liam!!! Super skilled, friendly and smart instructors. I felt so safe with them and learned a TON. Hoping I'll get Morgan as my instructor for my upcoming roll course :)" – Angie M. (Tripadvisor, 6/5/23)

"I very much enjoyed my 3 day beginner kayak course. Morgan and Naomi were my excellent instructors they were able to give a fire hydrant of information in a positive fun way. As well of the rest of the staff made me feel welcomed and happy to have me there. As I continue my journey Wet Planet will be part of it!" – Abraham S. (Tripadvisor, 9/1/22)
Read More