ABOUT ME
---
Mitchell's path to kayak instruction started as a camp counselor in 2018. This love of teaching quickly progressed into leading sea kayaking trips off the coast of Maine, instructing kayak courses at Colorado College, and eventually to Idaho, where he raft-guided and led ducky trips down the upper Salmon River in Idaho.
Portland (Maine, not Oregon) is a recreational paradise in the Northeast. As a child, Mitchell found himself drawn to exploring the epic rocky coastline of Maine in a sea kayak. The progression to whitewater was on his mind for years but was only fully recognized once moving west and joining the outdoor club at Colorado College. With his solid foundation, Mitchell excelled so quickly that he was able to start instructing peers on rolling and leading whitewater trips in the surrounding rivers. It is unusual to find Mitchell off the river, but when you do, expect to see him playing cards with friends or doing his best to find a pickup hockey game!
Mitchell is very familiar with the process that has helped him progress and is eager to share that knowledge and experience with his students. That progression is anchored by the excitement he gets from playing and practicing on every feature the river provides while encouraging his friends and students to do the same! Mitchell views running the river as more than just having a good time. He is deeply passionate about building advocacy amongst river runners to protect wild places and our access to them.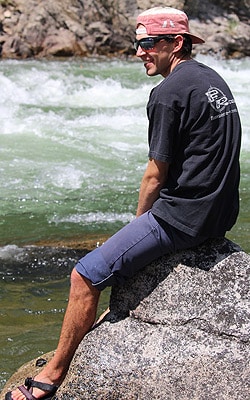 Read More