ABOUT ME
---
Originally from central Maryland, Mattie found whitewater in the spring of 2012, training and guiding river trips on the New and Gauley rivers in West ByGawd Virginia. Four years later she packed and checked her kayak Blue Bell on an international flight and worked commercially on the Sjoa and Otta rivers of Northern Norway.
Mattie and her partner moved to the Columbia Gorge for year round living in the fall of 2016. After migrating bi annually from the south eastern rivers of the country to the western mountain ranges of Montana she decided to try to find a location that "had it all." If you ask her today if she's found "it" here in the Gorge she'll give a half cocked smile and often times quote Kurt Vonnegut, "If this isn't nice, I don't know what is!"
If you don't see Mattie kayaking the Hood, White Salmon or on her annual Middle Fork Salmon expedition, you'll find her peddling up the 100's of miles of mountain biking trails in the region, skiing pow in the Mt. Hood National Forrest, or even taking a leisurely float down the Klickitat via inter tube, soaking in the sun with a beverage in hand. She's a firm believer in time spent adventuring is time well spent.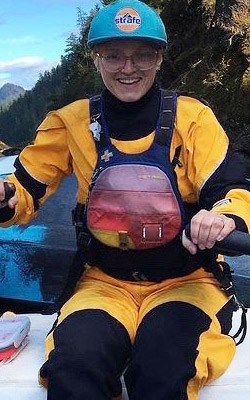 Read More
What Guests Say About Mattie
"I took the three-day beginner course with Paul and Mattie, who were extremely knowledgable, approachable, patient, enthusiastic, generous, and responsive. I was beyond impressed with their one-on-one attention and analysis of each member of the group. Questions were always welcome, taken seriously, and answered fully. Safety was always uppermost in their minds, and we were completely confident in them even when the water abruptly converted us from kayakers to swimmers. I cannot more highly recommend a Wet Planet course!" – Carla R., Trip Advisor
Read More