ABOUT ME
---
Colorado is a state that produces so many river guides because the access and opportunity to get on the water are stellar. While Steamboat Springs native Marcus grew up along the banks of the Yampa River, he didn't get into Whitewater until later in life when he began on the Poudre River in 2020. This steep, challenging, class IV section pushed Marcus to improve quickly. It then inspired him to seek out new rivers like the Grand Canyon section of the Colorado, Cal-Salmon, and Washington's Skykomish and White Salmon.
For most river runners, there is one specific experience, a moment of clarity, when you realize that working on the river is not just something you want to do but something you need to do. For Marcus, it was a highwater rafting trip on the Royal Gorge that combined a thrilling whitewater descent and the camaraderie of the guides who skillfully navigated the section. This experience solidified his desire to pursue river guiding, complementing Marcus' wintertime pursuit of skiing and ski patrolling. 
Marcus is always seeking out the next challenge. Whether it's kayaking a waterfall, a new ski line, or a new hike with his partner and two dogs, he is here for the abundant activities the Columbia Gorge provides. When you come on the river with Marcus, expect a guide who is thrilled to help you find your next adventure by barreling through splashy wave trains and dropping Husum Falls while promoting the importance of the rivers that we love to play on.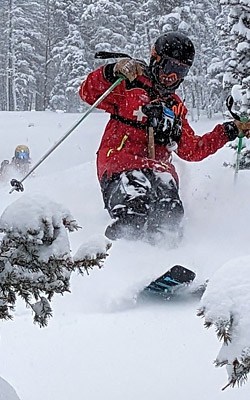 Read More
What Guests Say About Marcus
"Marcus was an excellent guide, knowledgeable and patient" – Melissa M. (Google, June 2023)
Read More