ABOUT ME
---
Liam is a salt-of-the-earth mid-westerner that found his way into the river world by developing a whitewater canoe program as a 15-year-old camp counselor. That initiative and willingness to dive into something new helped him develop into a strong kayaker and raft guide. Liam began raft guiding in 2020 in Wisconsin for two seasons before moving to California's American River and the Gauley in West Virginia. In the winter of 2022, Liam got his first taste of international guiding on the Pacuare River in Costa Rica. This incredible experience will inspire many more explorations south for the winter. 
Liam's athletic background is anchored by years of high-level competitive skiing. Even though he is currently more interested in the freedom provided by backcountry skiing and kayaking, Liam's technique, precision, and drive to improve is evident. This has helped him take a significant leap in his whitewater ability as both a raft guide and kayaker in the last few years. As one of the great whitewater destinations on the planet, White Salmon was a logical next choice for someone with his type of drive. 
Our guests at Wet Planet will enjoy Liam as both a kayak instructor and a raft guide! Kayak students ranging from never-ever to Class IV should look forward to an instructor who can easily articulate the technique and strategy needed to be successful on the water. All the while, he will provide a fun and safe environment that will leave you itching to return for your next lesson with Wet Planet. Rafting groups will get a full-throttle adventure featuring a smiling guide in the back just as eager to take you down a waterfall as he is eager to narrate the dynamic environment of the White Salmon River.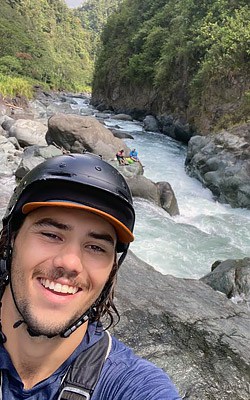 Read More
What Guests Say About Liam
"1000% recommend these kayaking courses. According to the WP kayak levels listen online, I was either a Beginner or Novice. I can't stress enough how helpful the Beginner 2-day was for me. I learned the "basics" but never felt bored. Skills were a challenge but totally doable and I felt so supported by the instructors. They did a fantastic job at encouraging me while pushing me to grow and answering my endless questions.

By the end of Day 2, I was a totally different paddler than the start of Day 1. Whitewater kayaking is still scary but I'm WAY less scared and more confident in everything from technique to swimming to even carrying my boat. On the backend, WP's communications and admin were super helpful, too.

HUGE shout-out to Morgan and Liam!!! Super skilled, friendly and smart instructors. I felt so safe with them and learned a TON. Hoping I'll get Morgan as my instructor for my upcoming roll course :)" – Angie M. (Tripadvisor, 6/5/23)
Read More