ABOUT ME
---
Hailing from the breathtaking town of Highland, UT, Kess discovered her passion for rafting and kayaking as a teenager during her first rafting trip to Dinosaur National Monument. After her adventure, she told her mom she wanted to be a river guide, a feeling that only grew each time she found herself on the water. The transition into whitewater kayaking came naturally when she started guiding on the majestic Yellowstone River. Since then, Kess has commercially guided on the Yellowstone River, pre and post-flood, and the Gallatin River. She has also explored the iconic Colorado River in the Grand Canyon, the Green River in Cataract Canyon, the Pacuare River in Costa Rica, and the Snake River in Hells Canyon. 2023 will be Kess's first season at Wet Planet!
Some of Kess's fondest travel memories stem from twenty magical days rafting on the Grand Canyon, swimming amidst bioluminescence, surfing alongside a whale in Oregon, and the awe-inspiring encounters with bison while skiing in Yellowstone National Park. When she's off the water, Kess finds solace and joy in a myriad of outdoor activities. From climbing towering rock faces, mountain biking through rugged trails, backpacking across stunning landscapes, to skiing steep slopes, Kess feels most at home in nature. Yet, she also appreciates the mellower side of life while she practices yoga, reads a new book, creates art, and plays the guitar. Kess has dreams of learning all the ways to roll a kayak and becoming a river ranger, and she has completed her goal of publishing a coloring book! You can find Animals, Mushrooms, Mandalas, Moons, and More on Amazon.
Kess finds inspiration when recounting her discovery and nourishment for her love of the outdoors and how it transformed her into a happier and better person. This drives her to further immerse herself in the outdoor industry and share nature's joy with others in the hopes that she can instill a sense of stewardship and nurture for the natural world. Kess also finds immense joy when she sees people's nerves turn into excitement during their first rapid and witnessing numerous memories created for friends and family while in such beautiful places.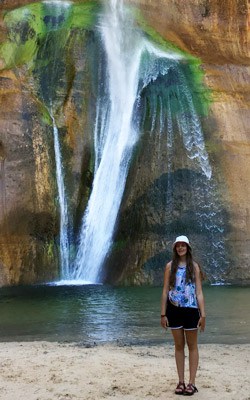 Read More