ABOUT ME
---
Katie loves nature. Whether hiking mountains, floating down rivers, snowboarding the slopes with her husband John, laying in the sunshine, or swimming in the ocean, she feels at home doing it all. Katie has worked as a river guide since 2009, when she started guiding in the Southeast on the Chattooga River. She quickly fell in love with the river and the sense of presence and focus it gave her. After a couple of seasons rafting in the south, working various rivers in the area, Katie took to international guiding. She worked her first river season abroad in Norway guiding on the great Numedalslågen.
Soon after, Katie made her way to the Northwest to explore the rivers and countryside of Washington and Oregon; then, on to Nepal to guide several rivers running off of the massive Himalayan Mountains. She made her way through 297 miles of beauty over 28 days rafting on the Colorado River in the Grand Canyon. She has floated the brisk rivers of southern Alaska and has guided sea kayaking in the warm waters of the Pacific Ocean in Hawai'i. When she's not on the water, you can find her teaching barre classes, riding her snowboard and laughing the whole way down the hill, practicing yoga, working on an art project or soaking up the sun wherever she can find it.
As a Wet Planet trip leader, Katie guides on the Klickitat, White Salmon, and Tieton rivers, loving every minute of it!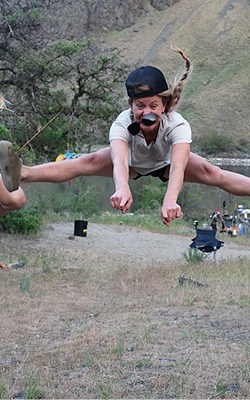 Read More
What Guests Say About Katie
"Wet Planet provided us with an amazing guided rafting experience! Our guide, Katie, was top notch! We were all exceedingly impressed with her mastery of the river and precision with guiding us. She helped even the most scared of our group (me!) feel pretty comfortable, allowing for a truly awesome trip! We're already recommending Wet Planet to our friends! Thanks so much, again, especially to our guide :)" – Morgan H., Portland, OR
Read More