ABOUT ME
---
Originating from Lafayette, CA, Josh's journey into the world of kayaking began in college when he watched a group of playboaters surf waves on the beautiful Yellowstone River. With piqued curiosity, he sought guidance from his friends, which ignited his love for whitewater and kayaking. Since then, Josh has worked on the challenging and thrilling Gallatin River in Big Sky, MT. During his most recent adventure to Chile, where he spent a month travelling and kayaking, Josh found his favorite river – the Futaleufú. The Lochsa River in Idaho and the Kootenai River in Montana are close behind. 
When winter arrives, you can find Josh snowboarding at Big Sky Resort, where he has spent the past three seasons instructing. When he's not on the water or playing in the snow, Josh spends his time camping with friends, embarking on new adventures, and playing his guitar. Stepping into 2023 and his first year as a kayak instructor at Wet Planet, Josh is eager to share his love for rivers and kayaking and witness the spark of passion ignited in others.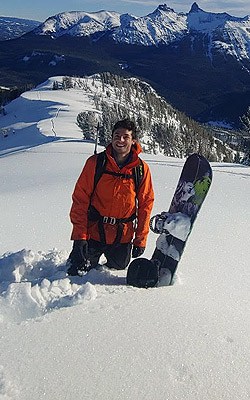 Read More
What Guests Say About Josh
"We had a great time during our 3-day beginning whitewater kayak course.  Josh and Paul were knowledgeable, patient, motivational and funny.  We have both taken much instruction in a variety of outdoor activities.  Josh and Paul exceeded our expectations and are two of the best instructors we have ever had anywhere.  The kitchen did a great job with daily lunches. The cafe served wonderful food and beverages and is staffed by the most friendly and lovely people. Thank you for an amazing and educational experience.  We look forward to our next course at Wet Planet!" – Mark and Darci H.
Read More