ABOUT ME
---
A long-time Wet Planet guide, Giani's distinguished whitewater career began in New York on the Upper Hudson Gorge in 1995, where he was the youngest licensed guide on the river for the next 3 years. He has also guided on the Sacandaga and Lower Moose rivers. Giani headed to West Virginia in 2000 and has been working on the Upper and Lower Gauley ever since. He expanded his West Virginia river repertoire in 2001 when he began guiding the New River as well.
Giani doesn't just experience the river from a Wet Planet raft, he also owns his very own raft named Mr. Blue, which he has taken on over 40 different rivers! He also has a few raft first descents in New York. Giani's professional rafting career is quite impressive!
Off-river, Giani has hiked the Appalachian Trail northbound in the winter (is he crazy or what?!) He also holds a degree in history.
He commercially guides all of the rivers that Wet Planet offers (such as the White Salmon, Klickitat, Wind, Hood, and Farmlands runs) and has been a trip leader since 2009. He especially loves guiding multi-day trips on the Owyhee River in Oregon, and the Main Salmon River in Idaho. He also leads our annual raft guide school and assists with our swift water rescue courses. He is Outdoor Emergency Care and CPR certified.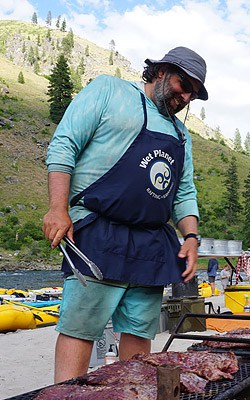 Read More
What Guests Say About Giani
"My husband and I took the full-trip, which included the thrill of going over the falls. I'm not a thrill seeker and was planning to sit out the falls drop, but I was so impressed with our guide, Giani, whose experience, passion for safety, talent for educating rafters, and common sense earned my respect and trust, that I stayed in the boat for the falls. The second half of the trip was just as thrilling–in terms of scenic beauty and that final swim in the Columbia River! A memorable trip. We've both been white water rafting other places around the world and the professionalism of this outfit rates extremely high if not the highest! (The lunch was great too.)" – Mary P. from Seattle, WA (Tripadvisor, 9/3/17)

"I want to thank you again for providing such a fantastic Owyhee River trip experience for our Sierra Club participants. Your river guides are very experienced, knowledgeable, hard-working, interesting and fun to hang out with. Please thank Dave, Syd, Gianni, and Niq again for us, we miss them already.  We love your delicious delicious food, (a big shout out to Arwin:~), and your overall trip planning and execution are the best in the business. Believe me, I've worked with a lot of different outfitters and appreciate Wet Planet the most… I only wish you had more permits so we could join you on more rivers.  Hint hint…" – Lisa K. with The Sierra Club (5/3/23)
Read More