ABOUT ME
---
Dave was born and raised in Oregon/Willamette Valley, and has worked many careers in his lifetime – a true Jack of all trades. Dave has worked construction, managed vineyards, plowed snow, been a commercial fisherman and worked big cranes.
Dave married his wife Arwen in his 20's and raised two beautiful children in the Willamette Valley, just west of Salem, Oregon. During that era also got a Wilderness First Responder Cert, Open water, Advance Open water and Rescue Diver certs. When their youngest left the nest Dave and Arwen decided to sell just about everything. They bought a travel trailer and made that their new home on wheels.
In 2018, Dave shifted gears and decided to move into the seasonal work life style. But before that launch into seasonal work, he and his wife traveled the world for about 1 year and visited 11 countries in 3 continents, from Asia (Thailand/Japan), Europe (Portugal, France, etc) to Africa (South Africa/Zambia). One of their favorite adventures was rafting the Zambezi River in Zambia.
Dave loves downhill skiing, hiking, rafting, snorkeling, diving, sailing, camping, fishing, planning next adventures, chopping wood or any projects he can get himself wrapped into, or simply enjoying a beer or glass of wine with friends. Recently, their daughter had a baby boy so Dave is really enjoying being "Papa."
Over the years, Dave's love of water also led him to whitewater rafting, and he and Arwen have enjoyed many multi day river trips in Oregon, Idaho, Utah, Colorado, California and Washington. Dave and Arwen's goal is to keep on traveling, having adventures and working seasonally. Now, Dave is certified in River Rescue and as a Wilderness First Responder, and joined the Wet Planet team as a multi-day raft guide in 2020, and continues to hold up his reputation as the Jack of all trades with maintenance projects at the Wet Planet Base.
Join Dave on a multi-day trip on the Main Salmon River in Idaho, or the Owyhee river in Oregon!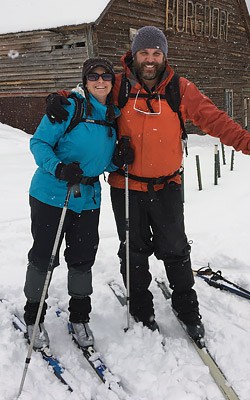 Read More