ABOUT ME
---
Cora started her raft-guiding career in 2021 on Montana's gorgeous Yellowstone River. The river's power, the landscape's beauty, and the welcoming river community inspired Cora to go beyond just a fun summer on the water. She worked the following season on the Deschutes while jumping at every opportunity to boat on the abundance of rivers out west. The Lochsa, Main Salmon, Owyhee, Colorado, and the Grand Canyon anchor a list that will continue to grow.
The choice to pack up and head west to Montana from her hometown of Riverdale, Iowa could certainly be considered an unexpected turn for her. After graduating from the University of Iowa, where she played for the Division 1 soccer program, Cora saw an advertisement for whitewater rafting and was immediately motivated for a new challenge. Hooked from the start, Cora dived in head first, taking on the rigors of both raft guiding and whitewater kayaking. Cora's athletic abilities helped her adapt quickly to the physical demands of guiding. Her experience contributing to high-level teams has helped her become a popular and important member of every river community she has entered. Cora plans on taking on more and more challenges to become the type of well-rounded guide who can work on any river in the world. 
Cora's favorite part of guiding is bringing new groups down exciting stretches of whitewater like the White Salmon River. Thriving in dynamic river environments with paddlers who start as strangers and finish as friends makes each day on the water extremely rewarding. A trip down the river with Cora will surely be one of the highlights of your summer!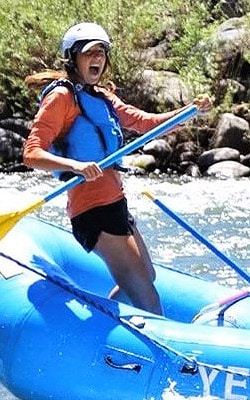 Read More
What Guests Say About Cora
"Traveling from Las Vegas, first time visiting wet planet, and it was awesome! Did the White Salmon River Half day the trip by itself was fun, but our tour guide Cora. She was super knowledgeable, friendly and made our first time memorable. Was 100% worth the money and something we would absolutely do again if ever back in Washington. Thanks to Cora and the rest of the Wet Planet crew for an unforgettable time!" Issac L. (Google, 6/29/23)

"What an amazing experience! Cora was phenomenal! She was clear with her instructions, made the our journey so much fun and memorable! I recommend Wet Plant 100%. Ask for Cora!" – Lisa A. (Google, 7/1/23)
Read More