ABOUT ME
---
Claire started kayaking after she graduated high school, when she took a kayak roll class in a swimming pool on a whim and was instantly hooked on the feeling of paddling. Following her first kayak trip with her mom, Claire got so excited about outdoor recreation that she devoted an entire semester of college to outdoor education classes. Soon afterwards, she realized she'd never wish to be anywhere else than in a powdery chute skiing, on a sunny river kayaking, in an Aspen forest mountain biking, or between two sandstone walls canyoneering.
A recent graduate in Outdoor Recreation Studies at the University of Utah, outdoor recreation completely changed Claire's life for the better, helping her to become her best self and appreciate what she truly values in life. Claire loves teaching kayaking because it allows her to show others the joy to be gained from the experience of human connection in a natural, beautiful, rough-hewn outdoor setting. Claire hopes that she can help others find themselves through whitewater sports as she did.
Claire is now excited to be pursuing a second degree in Geology, learning more about the rich geologic history of her favorite environments. Her favorite expression is, "We live here!" which she especially enjoys singing out when she's out in the mountains in Salt Lake City where she was born and raised; on the Arkansas River in Buena Vista, Colorado; and on the Colorado River in Moab, Utah, where she taught kayaking and raft guided previously. Claire can't wait to have "We live here!" moments with Wet Planet!
Claire is a Wilderness First Responder, as well as an ACA-certified Whitewater Kayak Instructor and Whitewater Rescue Technician.
Join Claire on the river for beginner or advanced kayak instruction this summer!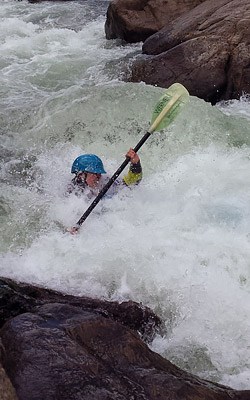 Read More
What Guests Say About Claire
"Fantastic river guides: super well-trained, professional, clear with instructions, fun-loving and supportive… Guides always look for ways to make their clients' experience FAR exceed expectations. I can't say enough about their skill in tailoring lessons to each participant and helping each of us advance according to our abilities. I took a 3-day Beginners course with my 14-year old son. Claire and Anna were our guides and both consistently surpassed all expectations. Did a river-rafting trip with Kate the week before and she too was amazing." – Flagg M. from Davis, CA
Read More