ABOUT ME
---
Brian started raft guiding in 2010 in West "bygawd" Virginia. Commercially he's guided in West Virginia, Colorado, Maine and Norway, on the New and Gauley, Royal Gorge, Penobscot, Kennebec and Dead as well as the Sjoa. Like most guides passionate about whitewater, he's been living the nomadic lifestyle, chasing precipitation and gradient, but he insists that the Columbia Gorge is his paradise.
Brian is also an avid backpacker and maintains massive levels of stoke when he can get out in the mountains. He and his wife got married in 2017 backpacking in Eastern OR. In the winter he enjoys alpine skiing as well as being a self-described "Nor-dorker." He's constantly on the hunt for remote Forest Service cabins and the next big adventure. He owns two rafts, named Spare Bourbon and the Roe v. Wave.
Brian is often admired for his deep appreciation of good wit and always being one step ahead when something needs to be done, is also well known for his big voice, big heart, and ability to find the biggest piece of every wave!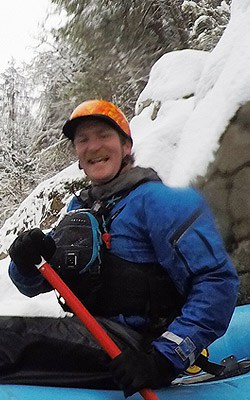 Read More
What Guests Say About Brian
"I am a 71 yr old lady & Brian is my hero. He was so good at his job we never got hung up or stuck as he navigated the wild water. In fact he steered us to bump other rafts who were. Eventually he became everyone's hero helping us get back down to the rafts when we had to get out to go around a dangerous drop in the White Salmon River. I live on a very limited income so I was only able to afford the ride, but not a $ tip. Instead I can write a good review & recommend you request him to be your guide. Please tell him "Red" sent you. Thank you & keep living till you die." – Red Jude N. (Tripadvisor, 8/3/21)

"My friends and I had the privilege of rafting the White Salmon river, using Wet Planet as our outfitters. The operation was run seamlessly, with care taken in every step to ensure a safe and fun experience was to be had. The river itself is a glorious sight, and would recommend rafting it to any outdoor enthusiast. Our guide Brian was truly a gem….super fun guy that made us feel at home, and safe on a gnarly river." – wwright79 from White Salmon, WA (Tripadvisor, 8/18/17)
Read More