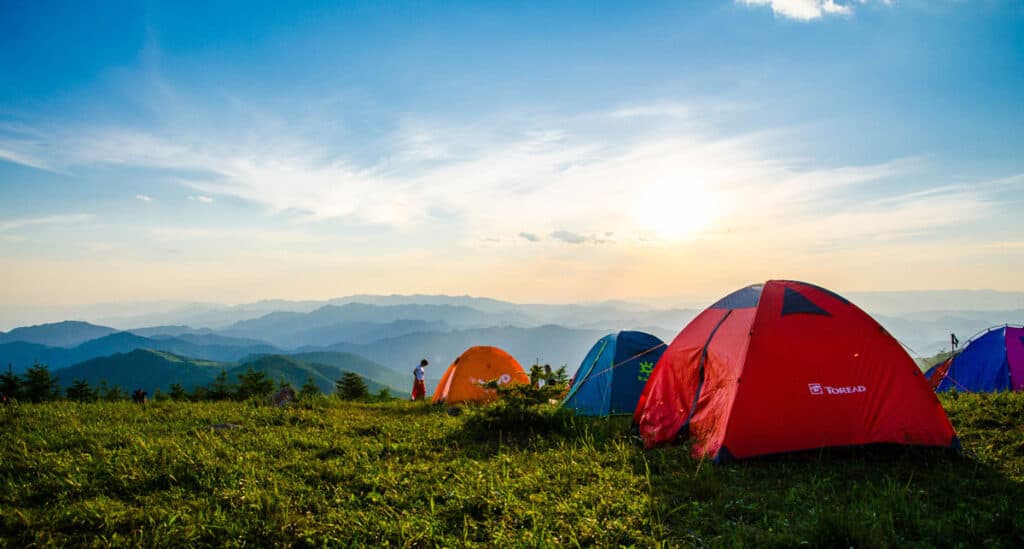 Father's Day is just around the corner (June 18th), and it's time to show appreciation for the awesome Dads we have in our life. At Wet Planet we can't get enough of enjoying the outdoors, our favorite activity being river running. Whether your dad is a hiking hero, a camping connoisseur, or a kayaking king; we've got you covered with an epic selection of gift ideas that will nurture his enjoyment of all things outside.
We know that gifts don't always come wrapped in boxes, so we've also included great options to give an experience as a gift. We've scoured the land; climbing mountains, and exploring rivers, to bring you the most exciting, practical, and downright cool gift ideas for the Dad who knows how to embrace nature's wonders. And don't forget to support your local businesses!
Let's dive in:
Unique Experiential Ideas:
1. Whitewater Rafting:
We won't lie, we're definitely biased. Our favorite choice for a great Father's Day experience is whitewater rafting. We love the river, and we love sharing that with our community. Rafting is a great way to get friends and family together, experience exhilarating rapids, and enjoy one-of-a-kind scenic landscapes. Rivers are a special place to be, and there are so many reasons we love them: You can enjoy the outdoors while also escaping the heat, the scenery is incredible and filled with beautiful plants and wildlife, you stay active, and it's an opportunity to try new things. Rafting is an amazing way to create memories with dear old Dad that will last a lifetime. The White Salmon is a local favorite for a fun day trip, appropriate for ages 10+. Or go big and plan a mutli-day trip on the Main Salmon River for 6 days of pure outdoor river bliss (ages 7+).
You can wrap up a gift certificate and let Dad decide when to get on the water, or take advantage of our Father's Day special and come out to the Columbia River Gorge for Father's Day weekend on the White Salmon River. Use Promo code: DadsLiketoRaft23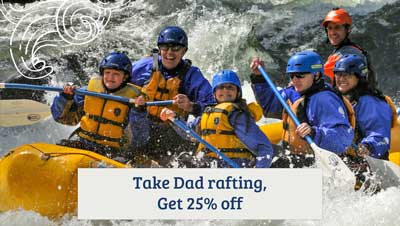 *Father's Day special valid June 16-18, 2023 for groups of 2 or more on the White Salmon River.
2. Hiking Day: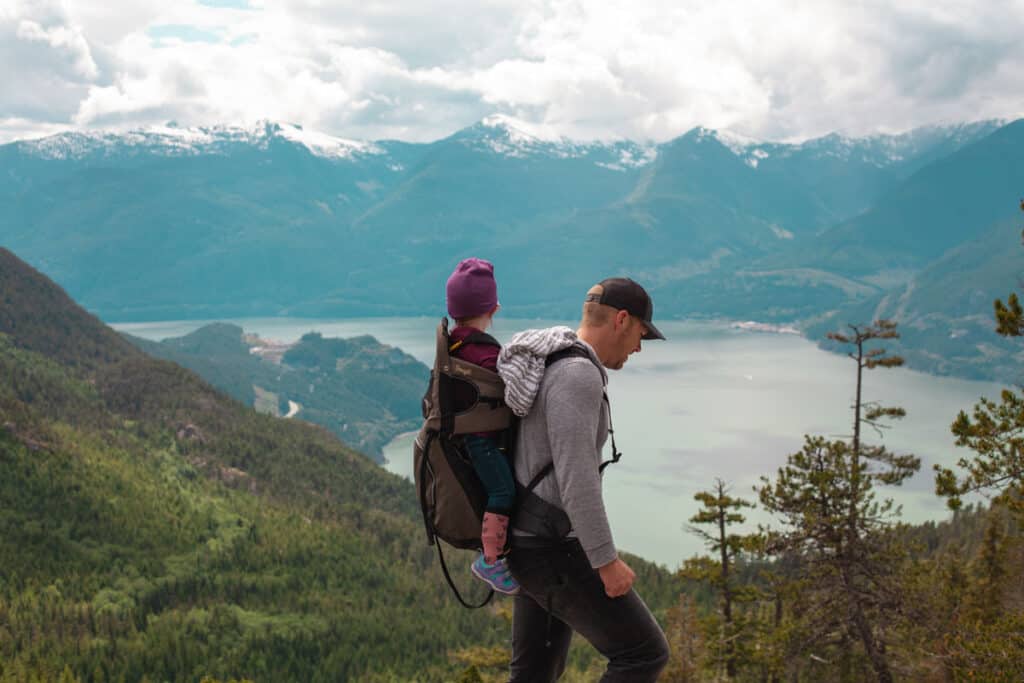 Plan a special hiking day with your dad and the rest of the family; choose a scenic trail, pack a delicious lunch, and spend quality time together while enjoying the beauty of nature. A great local guidebook we love is Curious Gorge. Find a great hike in your neck of the woods, or pick a special destination spot and make a weekend of it. Big or small, getting outside with your adventure-loving dad will make his day. Hiking outside as a family offers numerous benefits, from physical health to strengthening bonds to fostering a love for nature; It promotes physical activity, encourages exploration, provides opportunities for learning and discovery, and creates lasting memories that strengthen family relationships and create a sense of adventure and togetherness.
3. Backyard Camping:
If you don't have the time or resources to set up an off-site camping adventure, do a backyard camping night. Pitch a tent, create a cozy campsite, make dinner outside, and spend a night under the stars. You'd be surprised how fun it can be to camp out right next to your backdoor. No packing is required, and the family can enjoy something new and special together without spending too much or going too far. Don't forget the s'more stuff, and plan some fun family games (we like these creative, no gear required games). Backyard camping is awesome because it combines the fun and excitement of camping with the convenience and comforts of home, allowing you to create a memorable outdoor experience right in your own backyard.
4. Geocaching Adventure:
If you haven't heard of Geocaching, your Dad probably has (Google it). Engage in a geocaching adventure with your dad. Use a GPS or smartphone app to search for caches in outdoor locations. It's a fun and interactive way to explore the outdoors together. You could even set your own "treasure hunt" and pre-hide gifts that Dad can find.  Geocaching as a family activity offers several benefits including fostering teamwork and collaboration, promoting outdoor exploration, enhancing problem-solving skills, and creating shared adventures and memories that strengthen family bonds. It's a thrilling treasure hunt that brings the family together and encourages a sense of adventure while enjoying the great outdoors.
Gift ideas:
1. Miir Drinkware:
We love Miir because they make great insulated drinkware. Insulated drinkware keeps your hot beverages hot, and cold drinks cold. And no sweating cups during the summer! You know Dad best; does he need his new favorite insulated water bottle or coffee cup?
2. Portable Hammock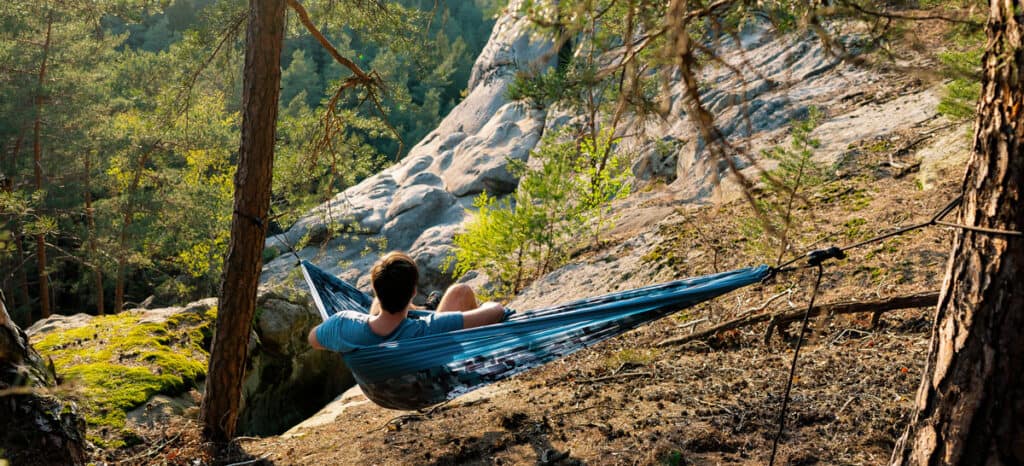 Sometimes Dad just needs to "rest his eyes." A great way to help Dad get that shuteye is a portable hammock. There are a lot of brands to choose from, so check out your local outdoor gear hub. Just look for an ultra-light or backpacking-style hammock. That way Dad can throw it in the car, his hiking bag, etc… and have it on hand when there is some downtime outside to relax and get a little rest. Don't forget the straps or rope to hang this bad boy up with.
3. Solar Powered Charger
Even though we head outdoors to disconnect, we still want to keep our devices charged. Whether it's a speaker, phone, or GPS, there are some items that just need to stay charged while Dad gets outside to play. Keep Dad in touch and safe by making sure his phone or GPS won't die while he's out adventuring. There are a TON of options for portable solar charging big and small. We like Sunjack: rugged, durable and waterproof, compact and portable, and not mention powerful charging; perfect for any outdoor adventure.
4. Waterproof Bluetooth Speaker
After a long day of adventuring, putting on some tunes in the car, at camp, or in the backyard can be nice. Add a little extra to any outdoor experience with a wireless speaker. Outdoor waterproof speakers offer the dual benefits of durability and portability. This makes them perfect for outdoor adventures, beach trips, pool parties, and camping. They provide high-quality sound and entertainment, allowing you to enjoy music, podcasts, and audiobooks while immersing yourself in nature or engaging in outdoor activities without worrying about water damage.
5. Hiking Pack
Any outdoor enthusiast needs a good pack. An important factor to think about when searching for your next pack is sizing. Anytime a pack starts to get heavy it's best to have hip straps to keep the weight off of Dad's shoulders. We love Osprey packs but check out your local outdoor store or online gear exchanges like Sendy. This gift takes a little more insider knowledge. Just remember with packs, you get what you pay for. We love buying used to avoid breaking the bank, and being kinder to our environment by reselling instead of trashing used gear.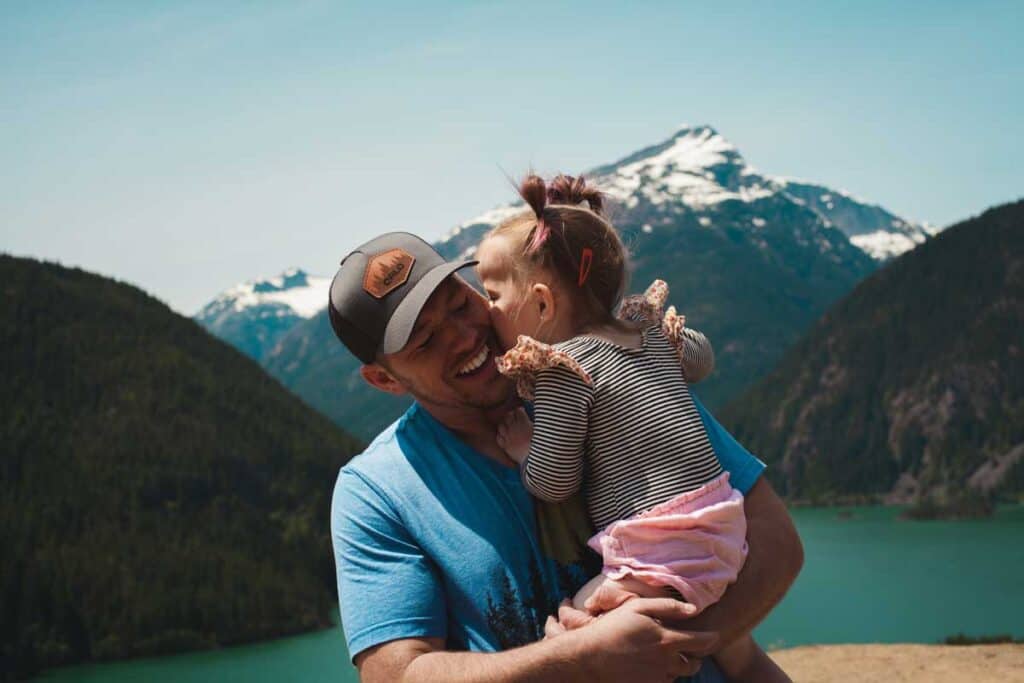 As Father's Day approaches, let's celebrate dads by recognizing that the best gifts don't always come wrapped in boxes with fancy bows. We know the power of experiences, bringing joy and lasting memories that can't be bought or replaced. While monetary gifts are also appreciated, let's remember that they are not necessary to express our love and gratitude. Instead, let's focus on the value of spending quality time together, supporting local businesses, and creating meaningful moments that will be cherished for years to come. This Father's Day, for a Dad that loves the outdoors, join him outside to create those lifelong memories that will be forever cherished.