Rafting works up an appetite. With a wide range of cuisines on both the Washington and Oregon sides of the Columbia River Gorge, you're sure to be able to fill your belly and satiate any cravings after rafting the White Salmon River! For some farm fresh snacks, check out our favorite stops on the Hood River Fruit Loop. If you want something a little more hearty, read on to read about our favorite places to eat in the Columbia River Gorge between Wet Planet and Portland!
Best Restaurants – White Salmon to Vancouver
Scenic State Road 14 on the Washington side of the Columbia Gorge is worth travelling with a leisurely pace for stellar views and delicious stops. These are our top six places to places to eat in White Salmon, WA, and along the Highway 14:
Everybody's Brewing – White Salmon, WA
With excellent beer and delicious grub, this brewery is a frequent stop for Wet Planet staff, whether it's an end-of-season team dinner or a simple after-work beer. Guide Josh Dickey personally recommends the Pork Pepper Nachos because they are the "best ratio of calories to cost" – the house-made salsa and chips really are to-die for! I personally am a sucker for their buttermilk ranch and gorgonzola dressings, which are also made in-house. They have lots of good vegetarian and vegan options, too! You can check out the tap and can lineup here. For more information about local breweries, check out our favorite breweries in the Columbia River Gorge!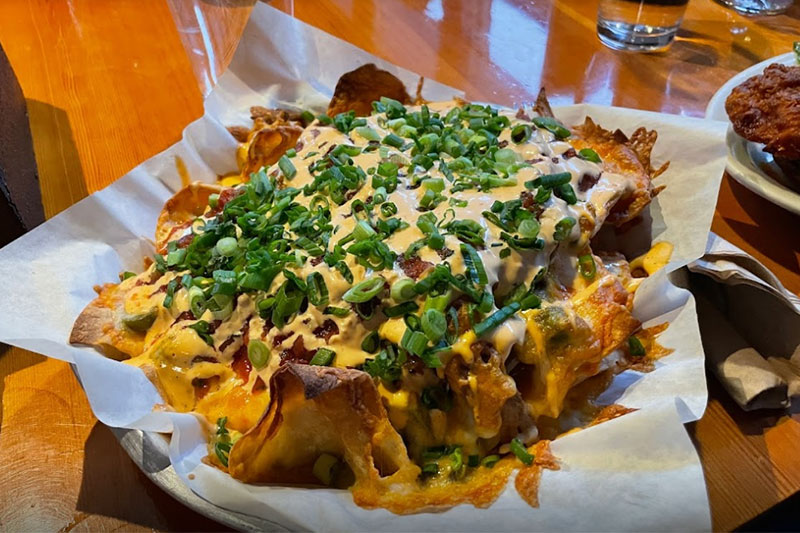 White Salmon Baking Co. – White Salmon, WA
As an absolutely EPIC breakfast and lunch spot with Pizza Nights every Monday, we are proud to source some of the goodies in our coffee bar from this local bakery. On my first morning in the Gorge, I was told I had to wait in the quick-moving line to secure cardamom buns and coffee. In addition to sweet and savory breakfast options, they dish up delicious sandwiches on their house-made bread after 11 AM. The Smoked Beet sammy is raved about by vegetarians and meat-eaters alike. If you raft with us on a Monday, be sure to stop by "The Bakery" after your trip to try their wood-fire pizza on Monday Night Pizza Night!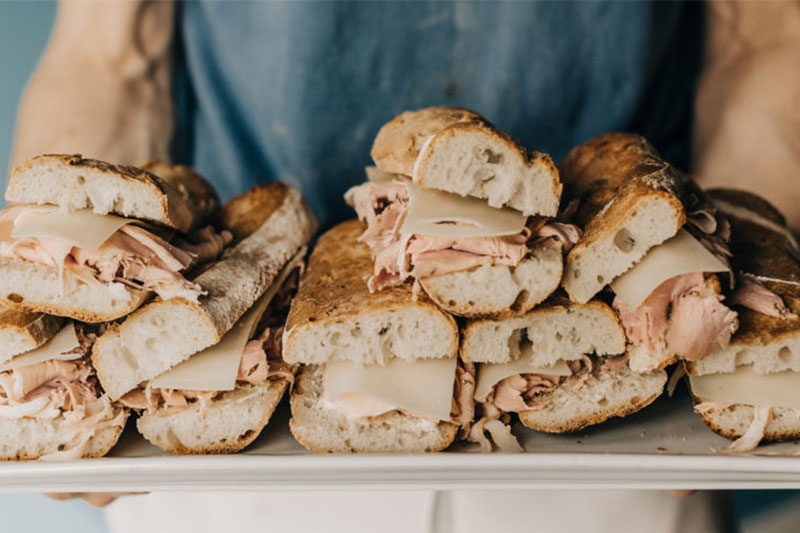 Manny's Lonchera – White Salmon, WA
This Mexican food mecca sits near the confluence of the Columbia and White Salmon, making it the perfect pre- or post-rafting stop before you hop on State Road 14. With three different sizes of burritos, tacos, tortas, and more, you're able to snack or feast. We personally love their commitment to our local community; they donate leftovers and excess to the Community Cupboard of Underwood. With veggie and meat options, you can't go wrong at Manny's!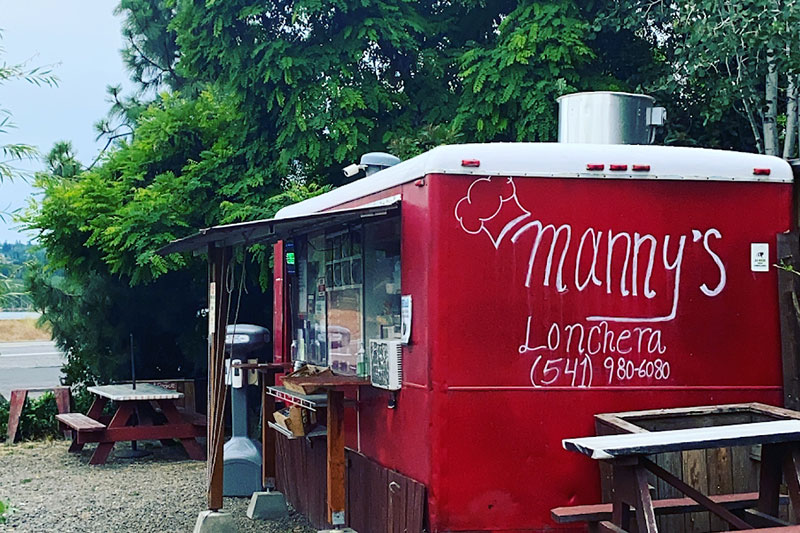 Red Bluff Taphouse – Stevenson, WA
Situated in Stevenson, WA, about 30 minutes from Wet Planet, this tap house pours up local beer, cider, and wine alongside food that shows off the flavors of the PNW. Folks rave about the Crack'n Brussel sprouts and Tap House Mac, as well as the tacos. If you raft with us on a Friday, you've definitely got to stop in for their once-a-week Friday Thai night! With a full bar and outdoor patio, this is an ideal spot to relax before or after rafting the White Salmon River.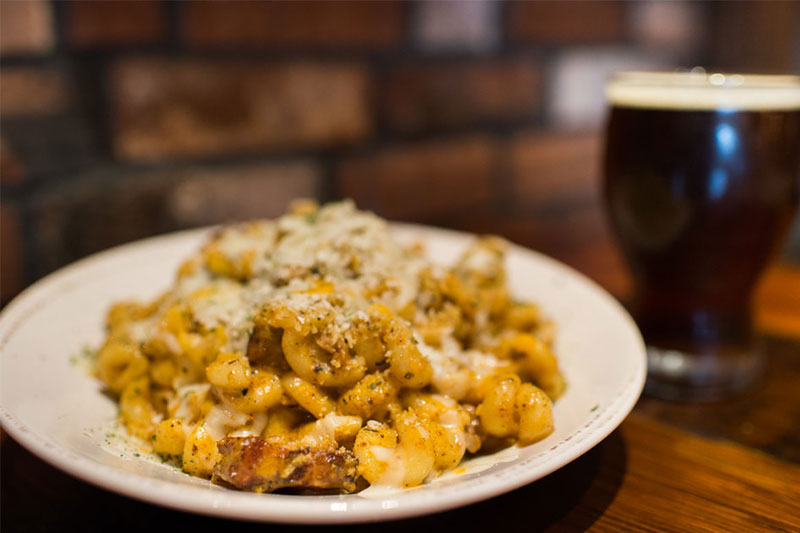 Clark & Lewie's Travelers Rest Saloon & Grill – Stevenson, WA
With views of the Gorge, this historic venue allows you to watch windsurfers and often has live music. In addition to the fun setting, we suggest sipping on their Bridge of the Gods Bloody Mary and smashing one of their dishes featuring elk, such as the Lewie's Poppers or Sgt. Floyd Meatballs (also available as a burger!). Their house-made chips are a side dish to look forward to, and the menu accommodates vegetarians!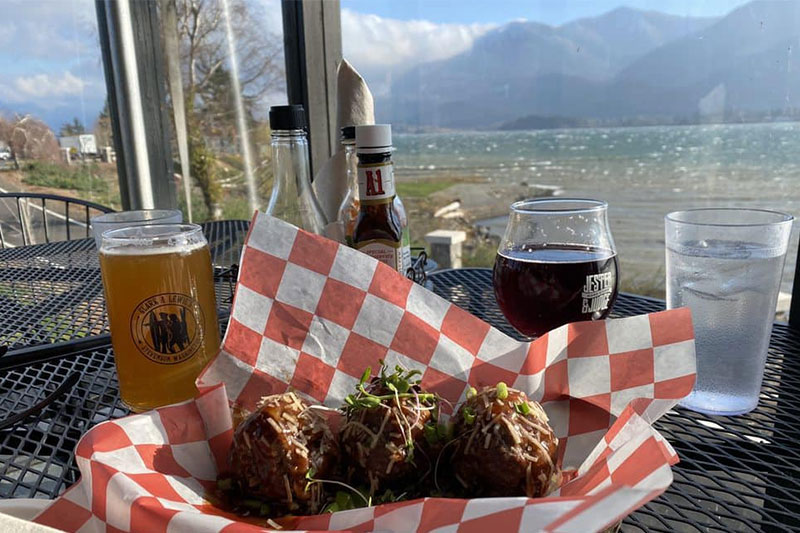 54°40' Beer – Stevenson & Washougal, WA
With two locations, one in Stevenson and one in Washougal, this place welcomes you to "beer country" and feeds you too! The Beer Lodge in Stevenson dishes up salads, sandwiches, and pizza alongside frothy ales, hazy IPAs, and tart sours. In Washougal, the menu veers towards burgers and other pub food, including their house-breaded, buttermilk-soaked chicken tenders, which you can order straight up or enjoy layered on a bun. This location's patio boasts views of Mt. Hood and a wildlife preserve.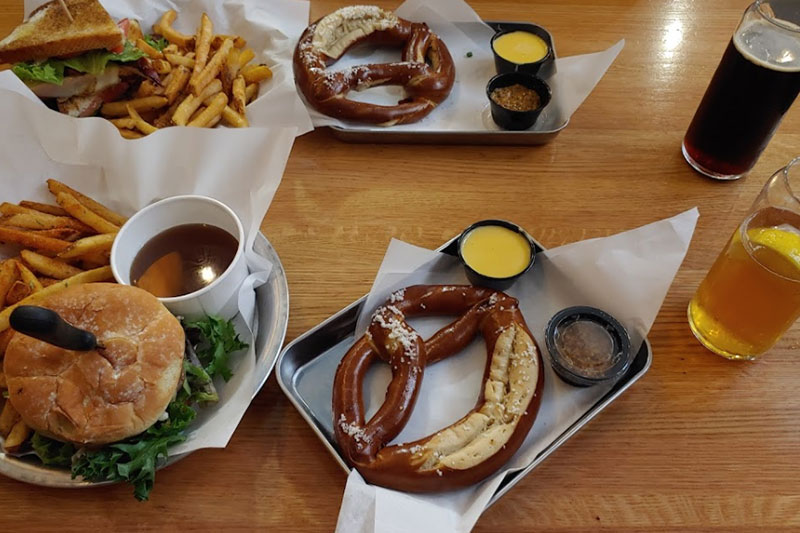 Best Restaurants – Hood River to Portland
While I-84 is the fastest and most-traveled route between Portland and our Husum base, be sure not to miss the views; you might even want to make time for a stop of two along the way! No matter when your appetite creeps up, there will be a yummy place to eat. We listed our favorite restaurants between Hood River and Portland!
Sushi Okalani –  Hood River, OR
This place is near and dear to our hearts, especially for Guide Durham Jacklin, who served here this past winter. Situated in Downtown Hood River, the restaurant offers an intimate setting and the best sushi around. I dream about the house-fileted anago (sea eel), nigiri, and sesame bon bons. They also source fresh, seasonal catches from the Oregon Coast in limited quantities. We think sitting at the sushi bar is an ideal date night, plus they have private Tatami rooms for groups that can be reserved in advance. Top off your meal with one of their sakes, or some local beer or wine!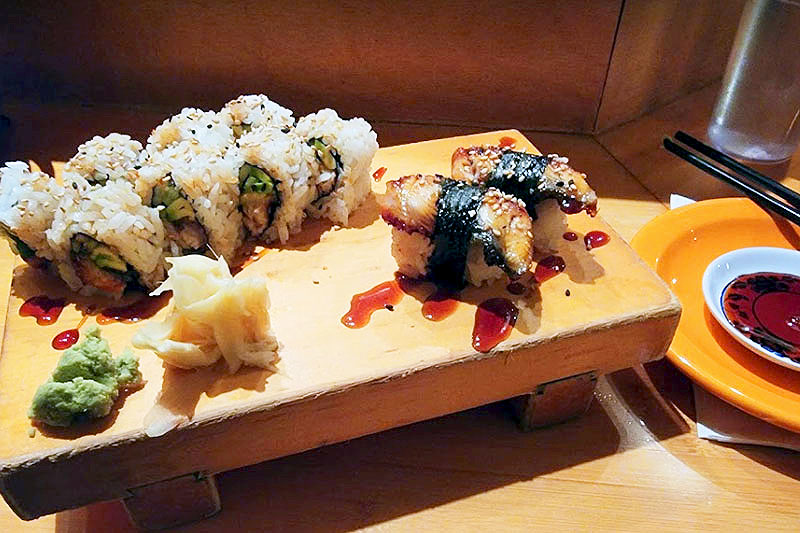 Ferment Brewing Company – Hood River, OR
With views of the Columbia River as well as the town of Hood River, plus a super cool outdoor patio and fireplace, we love spending an afternoon or evening at this brewery. It sits adjacent to the Hood River Event Site, so it's the perfect stop if you want to understand why Hood River is considered the wind sport capital of the world! In addition to beer, wine, cocktails, and mocktails, they pickle and ferment ingredients in house. If you're 21+ and feeling adventurous, we recommend the Dry Nitro Stout Ice Cream Float!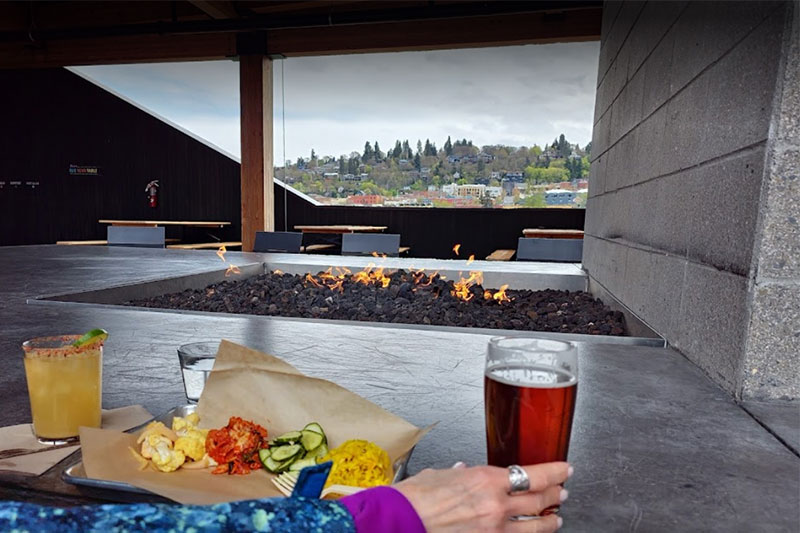 Eastwind Drive-In – Cascade Locks, OR
Made famous by Cheryl Strayed's memoir Wild: Lost to Found on the Pacific Crest Trail, this old-school joint serves foot, bike, and car travelers alike. Head up to the counter and order one of their epic soft-serve cones – we recommend the butterscotch swirl – then take a walk down the street to see views of the Gorge and Bridge of the Gods. They also have shakes, malts, Italian cream sodas, burgers, and fries. After paddling on the river, this retro walk-up plus drive-thru is a top-tier way to get some calories back in your system – treat yourself!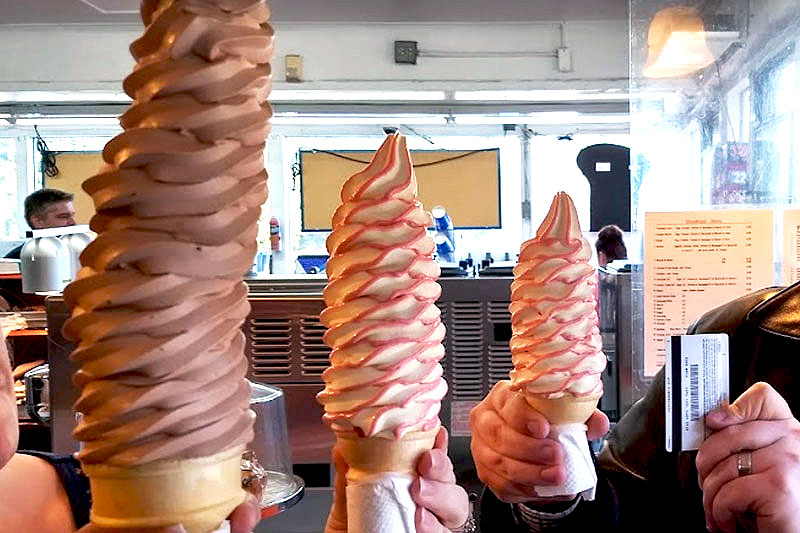 Sugarpine Drive-In – Troutdale, OR
Just outside Portland in Troutdale, this modernized drive-in rests on the banks of the Sandy River near a swimming spot and is an especially great stop for those who want to cruise the Old Columbia River Highway rather than I-84. They boast elevated offerings like Miso Caramel and Blueberry Lavender sauce to top off their soft serve (which includes vegan options!), "Waffle" Grilled Cheese, and vegetable-dense fare like Nori Potato Salad.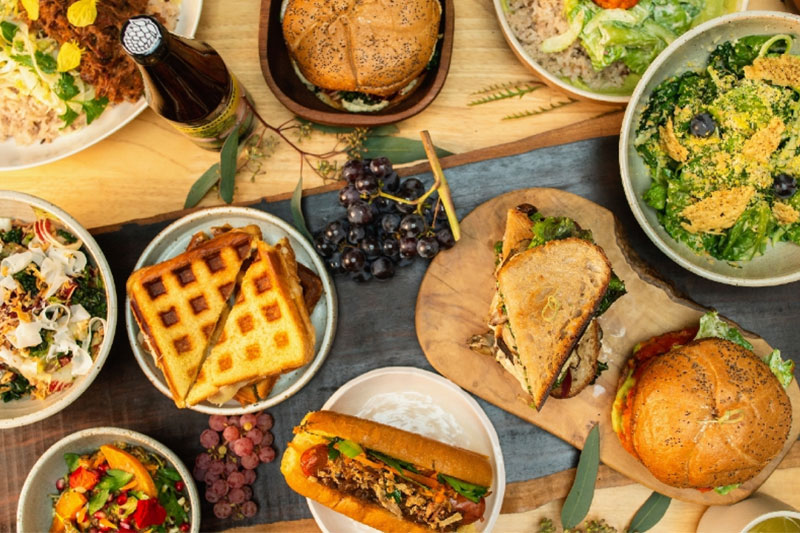 No matter which route you take to get to your rafting trip on the White Salmon River, there are great spots to eat along Oregon's Highway 84 and Washington's Highway 14! At each of these spots, there's something for everyone – it's the best way to end your day after working up an appetite on the White Salmon River!
---
Author Grace Bohlsen works as a Reservation & Guest Service Specialist at Wet Planet Whitewater. She enjoys connecting adventurers with nature and getting them stoked to be out on the rapids of the White Salmon River.