As the finale to a six month season of whitewater, Wet Planet ventures to Tieton territory. We spend the first three weekends of September along the banks of this river flush with waves from a dam release – alongside what seems like every other boater in the state of Washington. This means frenetic energy and boatloads of fun while rafting the Tieton River!
I was lucky enough to spend three weekends out on the Tieton with our awesome guide team. Between camping, consuming yummy comfort food, and crushing miles of rollercoaster whitewater, there is nowhere I'd rather be in the month of September than the Tieton River! Here are my favorite parts of Tieton season:

Camping Galore
Whether you want dispersed camping or an established campsite, the banks of the Tieton offer up endless opportunities for tents, campers, RVs, vans, and cowboy-campers alike!
Sometimes when I am going for a dispersed campsite, I feel nervous that I won't be able to find one that I like. The good news is, there is no reason to worry about that on the Tieton! All along the southside of Hwy 12, pull-offs lead to dirt roads, which lead to various riverfront or tree-enclosed spots for vehicle or tent camping. There is even more camping along the river if you take the turn onto Tieton Reservoir Rd, towards Rimrock Lake (check out Goose Egg Sno Park). The clearings are almost always big enough for multiple tents, and some can even host multiple RVs! So grab your closest friends, find a spot you like, and join us on the river!
If you're in the market for an established campground, we recommend Hause Creek and Willow. Located within miles of our Tieton base camp, where trips start and end, these two campgrounds boast access to the river and to established camping facilities! What more could you ask for?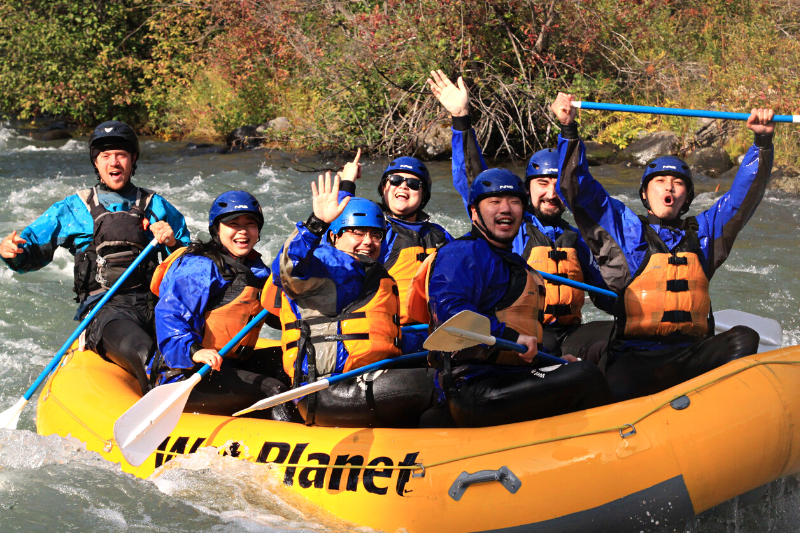 Capitalize on Nearby Comfort Food
Maybe it's just me, but a combination of crisp mornings and paddling on whitewater induces an intense appetite for burgers, soups, and something sweet. Luckily, there is an outpost close to our mobile base and a drive-in just a bit further, both of which serve up some seriously satisfying grub.
The Trout Lodge (27090 US-12, Naches, WA 98937) has a view of the river and is our go-to spot for Saturday night dinner. We recommend their soup of the day and bacon burger. Most importantly though, you have to get the homemade blackberry cobbler – warm, gooey, topped with ice cream…I'm drooling just thinking about it. This joint also sells beverages, snacks, and other last minute items you might need when camping-out. Tieton trips wouldn't be the same without their hospitality.
On Sunday evening, after a full weekend of rollercoaster whitewater, you can expect to find the Wet Planet crew at Laredo Drive In in Naches (9921 US-12, Naches, WA 98937). Giant burgers and crispy sides (fries, tater tots, and onion rings – take your pick!) make for a satisfying meal; but again, the best part of it all is dessert. I personally recommend the marshmallow milkshake. I've also been told that you can combine any of their flavor offerings. Apparently, marshmallow-Oreo is the way to go, but you could go buck wild and wind up with peanut butter-pineapple or mint root beer.
Stellar Whitewater (Obviously)
Offering 15+ miles of whitewater, the Tieton River is the premier spot for river-lovers to be in September. Maybe you've taken a Beginner Kayaking course with Wet Planet, spent the summer beefing up your skills, and are ready to try your hand at a new river? Maybe you joined us for April Guide School, have your own rig, and want to show your friends and family a great time before winter sets in? Or maybe you're going to join us in a raft for a Half Day rafting trip of big splashes and scenic views, plus lots of pictures to remember it by? The Tieton is a sweet-spot for all of y'all – or as Brenton says, it's "a Tie-ton of fun!"
One of our favorite parts of the Tieton is how accessible it is from Hwy 12. This means our photographer can easily reach a wide array of spots to capture our rafts taking on massive waves and super splashes, plus the giant smiles that come with. First-time rafters in particular love the Tieton because it's a lower class river than the White Salmon, and their initiation into whitewater is heavily documented on camera so they can show it off and remember the experience for years to come.
Make sure to end your summer with a splash – join us for an adventure on the Tieton River in September!
---
Author Grace Bohlsen works as a Reservation & Guest Service Specialist at Wet Planet Whitewater. She enjoys connecting adventurers with nature and getting them stoked to be out on the rapids of the Tieton River.