I was first introduced to the world of whitewater rafting in 2017 as a raft guide on the Kern River, then later became a trip photographer. Fast forward to 2022 – I'm now in my fourth season as a photographer at Wet Planet – yet after 6 years surrounded by the river community, I still had never been on the Grand Canyon! I've heard so many stories of incredible Grand Canyon multi-day trips from the Wet Planet guides who work our 6-day Main Salmon River trips in Idaho, 5-day Owyhee River trips in Oregon, and of my friends' private rafting trips on the Canyon – stories of magical hikes, incredible scenery, and new friends that will last a lifetime – and was dying to experience this magical place for myself. This winter, I finally got my opportunity to experience a multi-day rafting trip on The Grand Canyon –  one of the most famous rivers in the world.
When fellow Wet Planet employee, Josh Barza, invited me on a private Grand Canyon trip, I knew I had to make it happen. But with only a month's notice and school looming over my head, I wasn't sure that it would be possible. Incredibly, I was able to finish my semester three weeks early, find a dog sitter, and gather all the gear I needed in only a couple weeks. With everything falling into place so easily, this trip felt meant to be. From this point, it was only a couple weeks of impatience and 1,400 miles to the put in. Easy enough.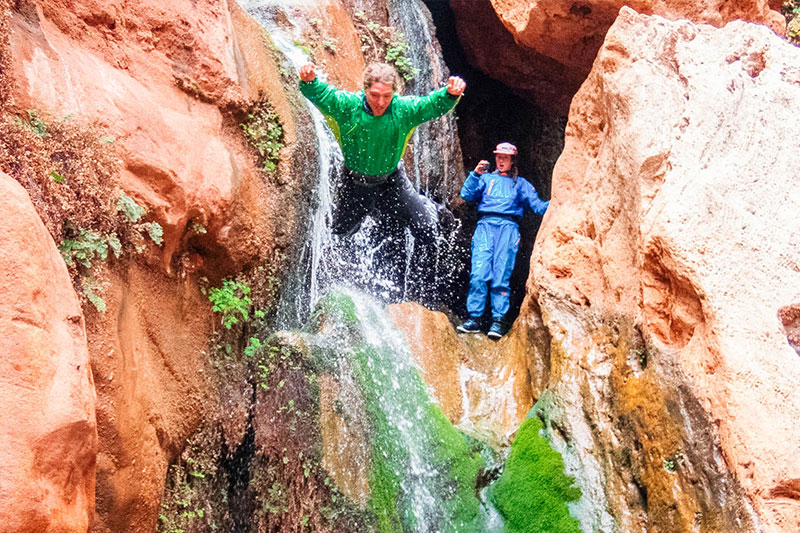 While a good portion of our group was made up of Wet Planeteers, there were quite a few people that I was meeting for the first time. The people you're with can easily make or break a trip like this, so I was reasonably nervous to meet everyone for the first time. But I can honestly say there's no other group of people I would've rather had my first Grand Canyon experience with. After all, anyone planning or signing up for a multi-day trip has to have some level of adventurous spirit – so it's easy to find a common thread no matter who ends up on your trip! Altogether, we had 15 people and 5 boats. My boat included me, Zach Ponevac, and occasionally Josh Dickey when he wasn't crushing it in his kayak. We were undoubtedly the A team.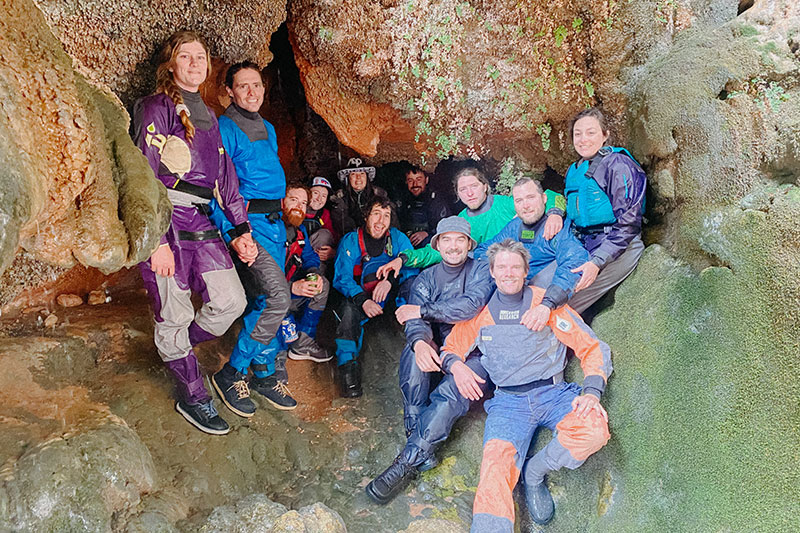 With this being my first Grand Canyon multi-day trip, I truly didn't know what to expect. Anyone who has been before will either tell you about the huge whitewater, incredible hikes, or all the hard work you'll be doing. It's impossible to truly understand what they are talking about until you experience it for yourself. The whitewater is epic in so many ways. It's exciting yet terrifying at the same time. The hikes are breathtaking, and many are only reachable by way of river. The constant rigging, de-rigging, cooking, and cleaning are exhausting but you learn how to work as a team (luckily, the guides take care of this part on Wet Planet's multi-day trips, so you just get to kick back and relax!) The canyon itself will make you feel small. All the things you stressed out about before will feel miniscule and unimportant; silly even.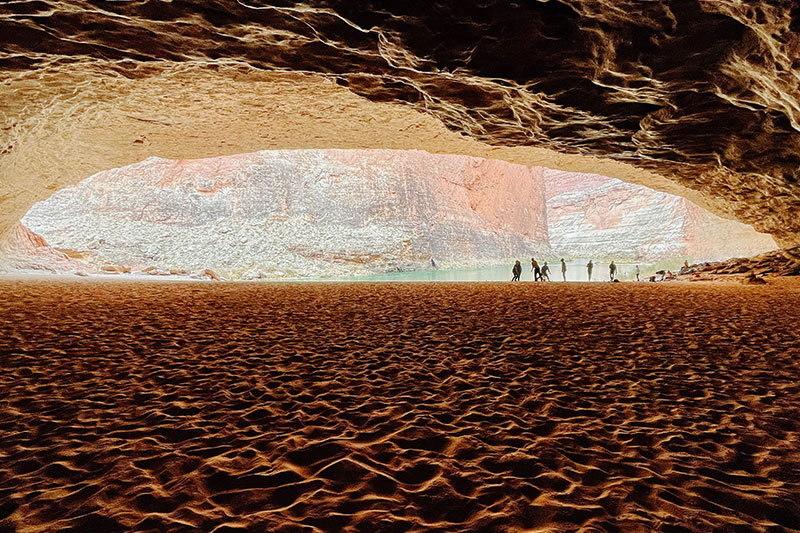 I'd be lying if I said that I wasn't challenged on this trip. Most mornings I would have preferred to stay cozy inside my sleeping bag, but I drew motivation from the incredible canyon that I knew was waiting outside my tent door. Coming up to a few of the bigger rapids, I was definitely nervous, but I had to learn to trust that Zach would get us through just fine. One day earlier in the trip, we had a day of rain that caught us off guard, with the help of the amazing women on the trip I learned how to dance when I'd rather be shivering in a ball. I was also really glad that I had learned to pack for the weather! (Wet Planet has great packing lists for both the Owyhee and Main Salmon, so if you follow these you'll be just fine). We also had a hiking mishap where instead of hiking our planned 10 miles, we hiked 15 miles through tough terrain for 11 hours straight. This day taught me to maintain a positive attitude even in a difficult situation. Huge shoutout to Amanda for radiating positivity during both days. These experiences showed me that there are so many life lessons to learn by going on a multi-day rafting trip – every day I grew and became a better version of myself.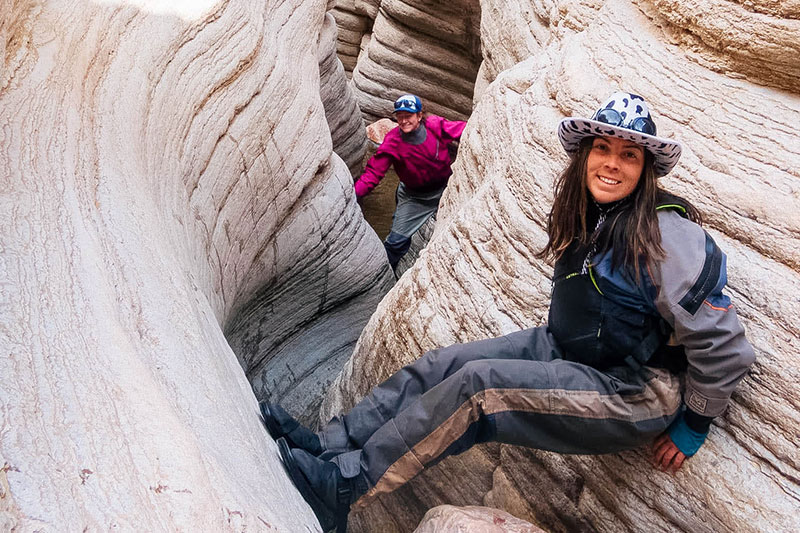 It's now been a month since my first Grand Canyon multi-day trip. I miss waking up under the stars at the crack of dawn every morning, constantly being covered in sand, laughing till my stomach hurt, and not having a worry in the world. It's been a month and I can still remember the line we took through all the big rapids, all our inside jokes, and the ridiculous accents that we couldn't stop talking in. It's been a month and I don't want to wait even another day to be back in a gorgeous river canyon. Needless to say, I'm hooked on multi-day rafting.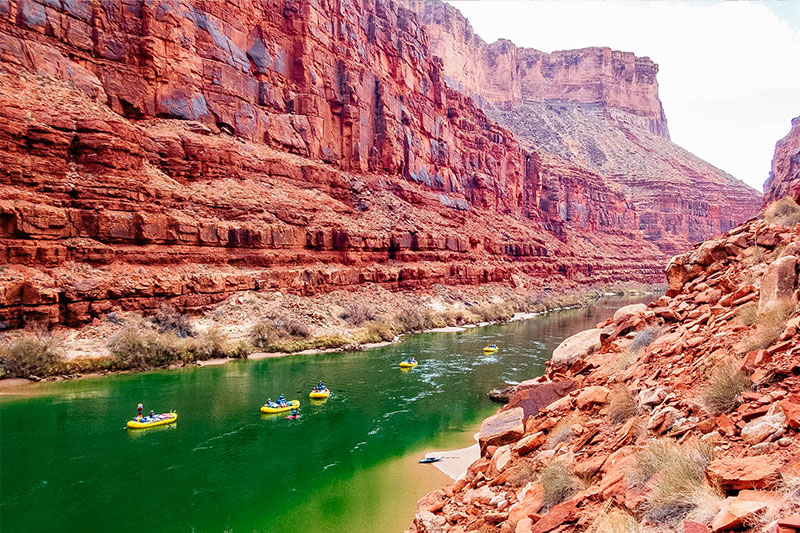 A multi day river trip is something I would recommend to just about anyone! It's an experience that you'll hold dearly for the rest of your life. So, if you think a multiday trip might be calling your name, check out Wet Planet's 6-day Main Salmon River in Idaho. It's the perfect river to experience your first multi day trip or add to your ever-growing list of multi days currently under your belt.
---
Author Hattie Fletcher works as a photographer at Wet Planet. She enjoys being able to capture photos of guests rafting the White Salmon so they can look back and reminisce on their epic adventure for years to come.