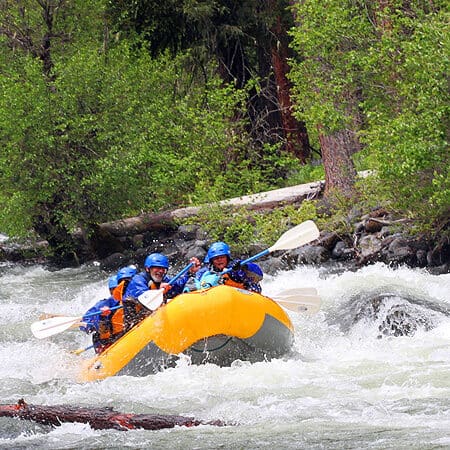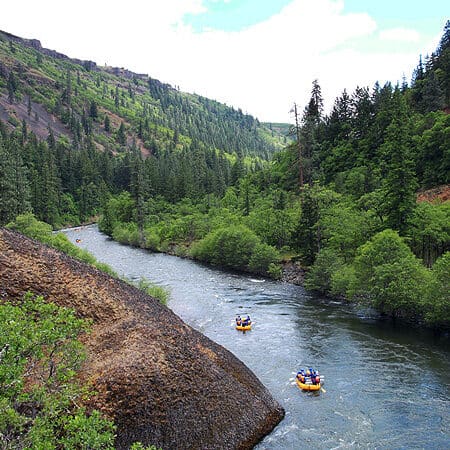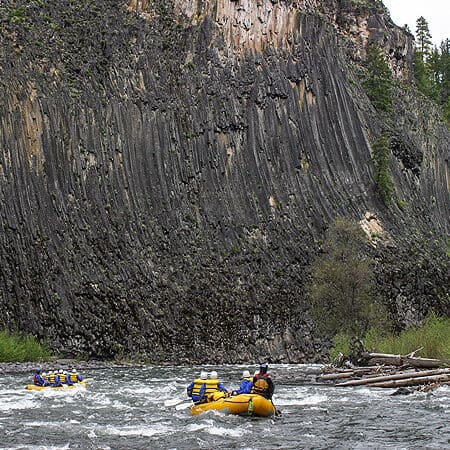 Klickitat River Rafting Trip
Wilderness Whitewater Rafting in Washington's National Forests
Overview
Wilderness Whitewater Rafting in Washington's National Forests
A Klickitat River rafting trip combines the continuous thrill of Class II-III rapids with the striking beauty of deep wilderness. This whitewater rafting trip begins on the eastern flank of the volcanic Mt. Adams, as glacial snowfields melt to fill the river during warmer spring months.
While the Klickitat raft trip is one of the longest in the area, the non-stop Class II-III whitewater keeps the action going all day. Like a conveyor belt winding through paradise, the Klickitat River exposes rafting guests to thick pine forests, steep canyons, basalt cliffs, twisted lava formations, and scrub oak forests. One of the only ways to experience true Pacific Northwest wilderness, this whitewater raft trip gets you away from the roads and crowds in other popular recreation destinations within Gifford Pinchot National Forest.
The Wild and Scenic Act helps preserve the Klickitat River from further development. Downstream from our run is one of only two active Native American dip-net fisheries. The Yakama Native Americans have thrived along the Klickitat River for centuries, using its clean and fresh water for fishing and travel. The land maintains this sense of survival, remaining untouched. Our put-in and take-out will be the only access points you will see on your day of whitewater rafting.
In this full-day Washington rafting trip, your group will enjoy a delicious lunch on the banks of the river halfway down the Klickitat River. Stopping to take in the surrounding epic views and enjoy conversation with your professional river guides makes your experience that much richer.
Your guides at Wet Planet recommend this river rafting trip for wilderness enthusiasts and action-seeking adventurers. With continuous whitewater rapids set in a remote wilderness area all day, the Klickitat whitewater raft trip has something for everyone.
Looking for more adventure? One day of rafting not enough? Try our multi-day package raft trips to experience more of the Pacific Northwest's best white water rafting!
Read More
TRIP REVIEW
---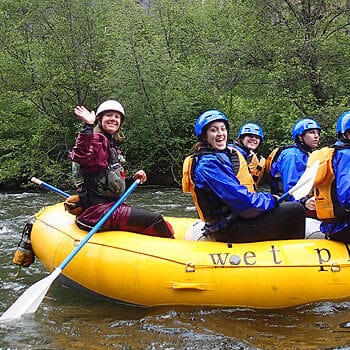 "The beautiful surroundings that the Klickitat cuts through make it an exceptional experience, even compared to the White Salmon, which tends to keep rafters too busy to stop, look around, and absorb the moment, especially when boats pass Wonder Falls, a striking waterfall cascading over rocks on the second, more mellow half of the Klickitat.
When it comes to beauty, we were in awe of the views we were treated to on all parts of the river. At one point, we were even able to pick out a white mountain goat perched on top of one of the sheer cliffs jutting out of the river.
That, combined with the Class III whitewater, kept us seasoned rafters entertained throughout the 18-mile stretch."
- Amber M. from Hood River, OR
Read More