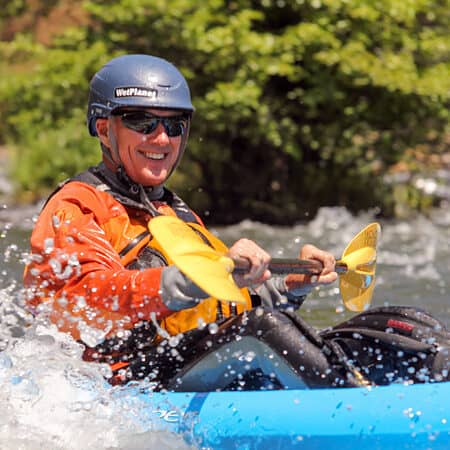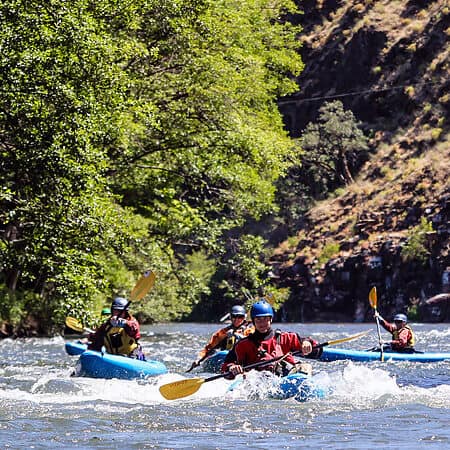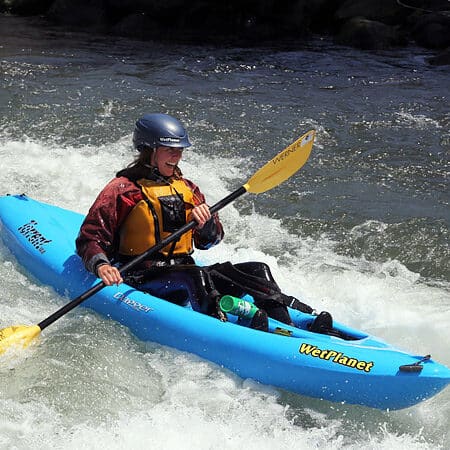 Recreational Sit-on-Top Kayaking
1 day whitewater kayak trip for first timers - Klickitat River
Overview
Sit-On-Top Kayaking Day Trip for first time kayakers
Get out on the river for a day of whitewater adventure – no experience needed!
Have you been on several rafting trips and are ready for the next adventure? Are you interested in whitewater kayaking, but you're worried that that being upside down in a kayak learning to roll might not be right for you? A Wet Planet Sit-On-Top Paddling Trip is the perfect adventure. This trip is for anyone who wants to get out on the river and experience the sensation of paddling your own boat without having any prior experience.
If you just want to try whitewater kayaking and have fun on the river for a day, while following the lines through the rapids with Wet Planet's experienced and entertaining guides, this is your trip. We provide all gear, equipment, shuttle, and a delicious riverside lunch. Perfect for families, youth groups, and anyone interested in learning whitewater kayaking but not yet ready to take a 2-day beginner kayaking course.
The fun and convenient benefit of a Sit-on-Top kayak is the ease of maneuvering downstream combined with its stability and forgiving nature. Should you tip over, it is very easy to recover and get 'back on the horse'. Just climb back on.
This guided trip on the Wild & Scenic section of the Lower Klickitat River includes mostly class II whitewater with a fun class III rapid known as Ishy Pishy, creating a grand finale at the end of the day.
An added bonus is that it's always sunny and dry in the Klickitat River canyon during the summer! The Klickitat is located on the dryer, east side of the crest of the Cascade Mountains, flowing into the Columbia River Gorge by the town of Lyle (10 miles east of Hood River and White Salmon).
Call now to or book online start the adventure and paddle your own boat in whitewater!
Still not sure if Sit-on-Top Kayaking is for you? Check out our top 5 reasons to take a Sit-on-Top Kayaking Trip this summer!
Read More
TRIP REVIEW
---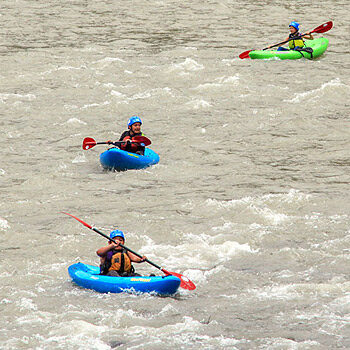 Went on the SOT kayaking trip today. It was fantastic! We had so much fun. Everyone there was so helpful, we got great safety info and our guide Dylan was superb! Was my first time in class 2/3 rapids and Dylan's advice and help really made it a great experience. What a beautiful place to kayak! Plan on going again next year!
- Margaret R. - Boise, ID
Read More