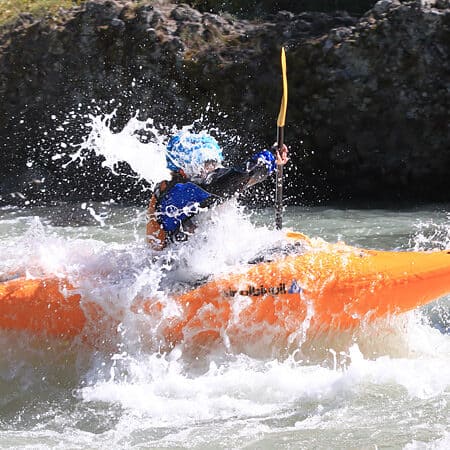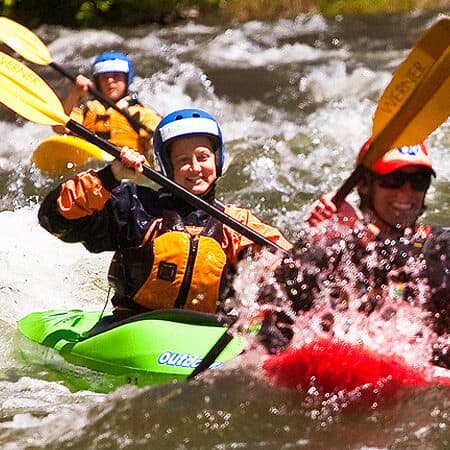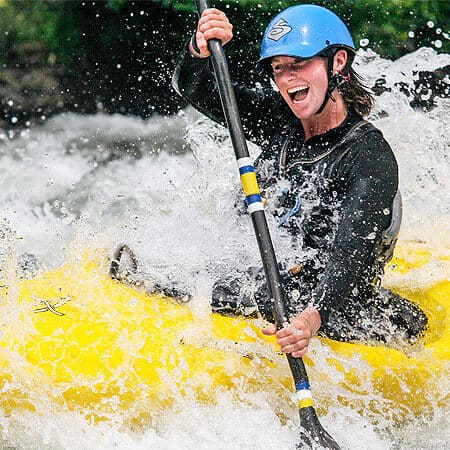 Novice Whitewater Kayak Instruction
Advanced Beginner / Aspiring Intermediate Kayak Class
Overview
---
Difficulty: Novice – Level III

Includes: lunch & all equipment
---
Are you a recent convert to the world of whitewater kayaking, but struggling to get over the hump of feeling like a beginner? Have you been kayaking on your own and feel like you need a little help to begin paddling more intermediate whitewater? Our novice kayak courses are perfect to help aspiring intermediate kayakers move into more challenging whitewater. This course is designed for the advanced beginner or aspiring intermediate, who already has basic whitewater kayaking skills, wants to improve his or her technique, or is looking to develop new skills. In this course, we will work on refining the basics and feeling solid in class II whitewater.
Course Requirements: Previous whitewater kayaking experience required. You should be able to demonstrate boat control and execute maneuvers in class I and some class II. Please refer to our kayaking skills overview to determine if this is the appropriate course for you.
You and your instructor will discuss your goals for the course and types of skills you wish to improve. Sometimes students come to us with specific goals, such as ferrying in a fast-moving rapid. Other times students are not sure exactly why they are uncomfortable in their kayak and need help assessing what goals are appropriate. With this information, as well as a brief history of your experience, we choose from multiple locations to find the ideal setting to achieve your goals.  Our headquarters rests in one of the top kayaking destinations in the country; you can be sure that we can find the perfect place to help you build your skills.
Join one of our monthly Novice Classes, or schedule your own private 1/1 instruction on any available mid-week day. This course is based out of our headquarters and includes lunch, transportation, and all equipment necessary (unless you want to bring your own).
Our Instructors
From refining stroke timing and technique to mastering harder lines and maneuvers, our instructors work closely with each student to help them meet their goals. We combine hands-on instruction and practice to help students improve their technique and master new moves.  Our team of instructors has decades of experience helping kayakers achieve their goals.  Mostly, we are passionate about helping others discover a lifelong love for kayaking. Give us a call to discuss your specific needs. We can match you with the perfect instructor, or feel free to request an instructor you have worked with previously. Check out the Wet Planet Kayak Instructor Staff bios here!
Read More