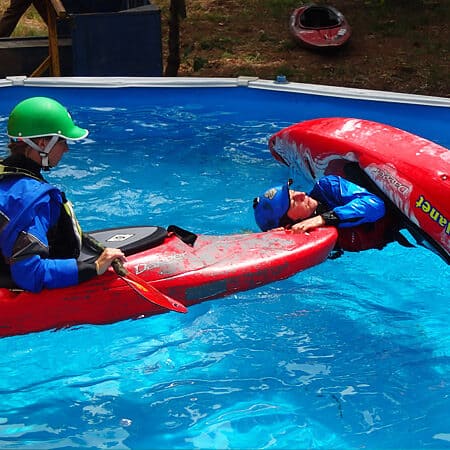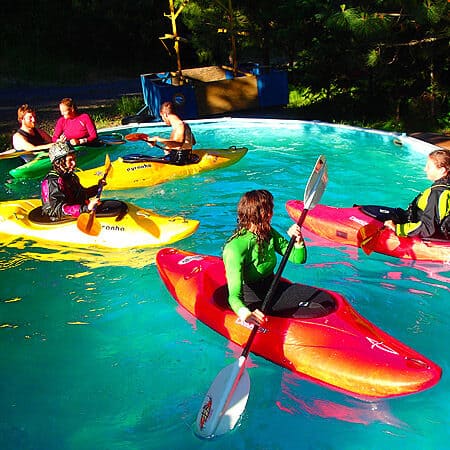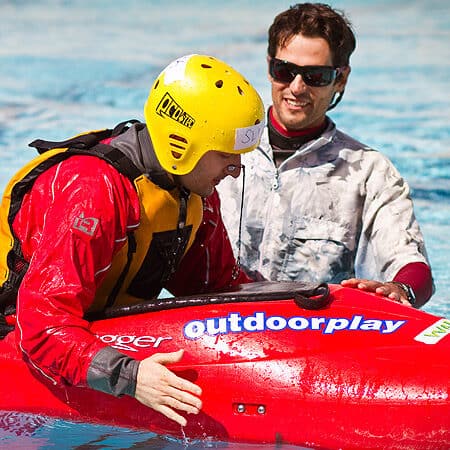 One-on-One Kayak Pool Rolling Sessions
Summer Pool Sessions
Overview
---
Includes: All necessary equipment
---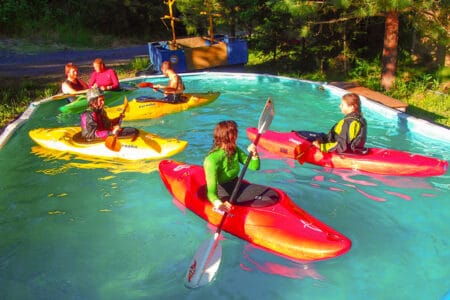 Summer Pool Sessions
Learn to roll your kayak in the Wet Planet kayak pool. Our convenient on-site pool along the White Salmon in Husum creates the perfect environment to learn or improve your kayak rolling technique. You can also reserve a private instructor for a couple of hours to help you hone your rolling skills before heading out on the water. Practice, practice, practice!
We offer two hour one-on-one pool sessions (one instructor – one student) designed to refine basic whitewater kayaking skills. Our pool is solely used for our kayak instruction programs, allowing students to focus easily and practice more, with no swimmers or extra pool fees. This also give us the flexibility to work with your schedule and personal goals.
Kayak pool sessions will be run by one of our professional kayak instruction staff team members.
Our students find pool sessions to help:
Master the roll
Increase comfort with being upside down in a kayak
Improve specific stroke technique
Increase boat awareness and ability to maintain edges
Regain confidence before heading out to the river
Since every student has different needs, every pool session is different. However, we draw upon the following core progressions to create a customized experience for every guest:
Introduction to the Roll
For students with minimal or no experience rolling a kayak, we offer an introduction to the roll pool session. We begin by making sure that students can effectively execute a wet-exit. We then proceed to work on developing an understanding of kayak roll fundamentals. We do this through a standard progression of edging exercises, hip snaps, T-rescues, and finally the dynamics of the roll. Students will benefit from hands-on instruction throughout this session, as the instructor is in the pool with the student helping them through each step of the progression.
Rolling Pool Sessions
This session is for whitewater kayakers that have previous experience or instruction with the roll but are not yet able to execute a successful roll regularly. Our instructors provide hands-on instruction and coaching to help students master the individual components of the roll, enabling students to practice their rolls much more comfortably and confidently. Our instructors are skilled at diagnosing specific troubles each student presents, creating a truly customized session.
Bracing and Edging Pool Sessions
While many paddlers dedicate lots of energy and importance to the roll, we find that the real trick to kayaking is staying up-right in the first place. For this reason, we believe that solid bracing techniques are essential to the success of any kayaker. In this session, we introduce and practice the different techniques needed to keep your kayak right-side up using both the low brace and the high brace.
Rolling Refinement and Development Pool Sessions
This session is designed for paddlers that already have a successful roll but want to either improve their roll or develop proficiency in other rolls (off-side, sweep roll, back deck roll, etc.). Our instructors will work with you in a hands-on environment to improve the individual components of your roll or to learn new rolling techniques.
Regardless of your skills as a paddler, every kayaker can benefit from time in the pool focusing on the fundamentals. If there are areas of your kayaking that could benefit from flat-water practice but don't fit into one of our core curriculum pool sessions, let us know. We are happy to get into the pool with any skill level of paddler. With just a few hours practice, our critical feedback and customized instruction can make a huge difference in your kayaking.
Read More