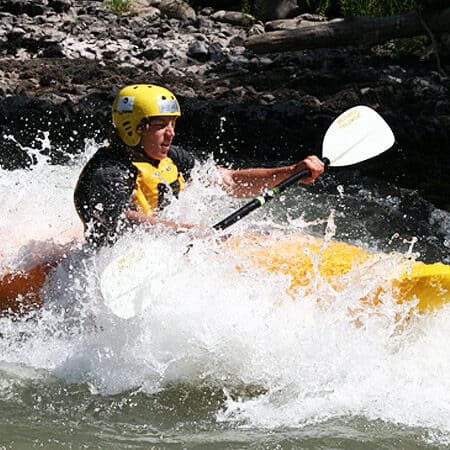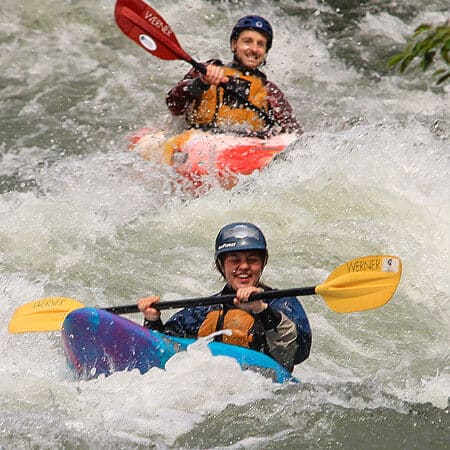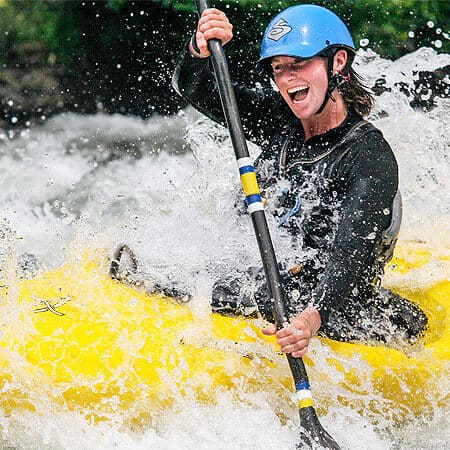 Beginner Kayaking Instruction
3-Day Immersion Class for Whitewater Paddling
Overview
This 3-Day Beginner Whitewater Kayak Course is designed to introduce beginner paddlers to the sport of whitewater kayaking. Our goal is to provide beginner kayakers with a solid foundation of basic kayaking skills necessary to kayak in Class I and II whitewater.
Students will leave the course with a solid understanding of essential kayaking skills such as:
Outfitting a kayak
Wet exits
T-rescues, swimming, and self-rescue
Body positioning
Strokes, edging, and bracing techniques
Reading rivers and hydrology
Eddy turns, peel-outs, and ferrying across the current
Scouting rapids
Basic safety precautions
Paddling through Class I-II whitewater
Please refer to our kayaking skills overview to determine if this is the appropriate course for you.
What happens during the 3-Day Beginner Kayak Course?
The course is based out of our riverside headquarters in the Columbia River Gorge and on the Klickitat River. On the first day, we introduce students to kayaking gear and assist them with equipment selection and boat fitting. Then, we head to the lake to learn how to exit a hardshell kayak with a spray skirt, T-resue, and the four keys to running rivers. We also explore edge control, balancing, and the various types of paddle strokes.
The second day of the course is spent on one of the rivers of the Columbia River Gorge, developing fundamental paddling skills. Progressing from slow-moving water to Class II whitewater, we will practice basic boat handling, eddy turns and peel-outs, ferrying, water reading, self-rescue techniques, scouting, and safe paddling techniques.
Your third day will be spent on either the same stretch of river or a new one, depending on the group's needs. With a third day of practice, techniques begin to naturally flow as your instructor provides more detailed suggestions and exercises. We believe consecutive days in a kayak assist in knowledge retention, making the third day a turning point for many new kayakers. Our instructors conclude the course with a personal summary of your progression over the three days. They will review skills learned and highlight areas to work on in the future. We will also provide you with resources to continue this incredible sport on your own, including coupons for gear and lists of local clubs and organizations.
This course includes all equipment necessary (unless you want to bring your own), lunch, and transportation.
Our Instructors
Quality instruction is the key to success for new kayakers. We maintain a teacher-to-student ratio of 1:4 or less to allow for plenty of individualized attention. Our passion for teaching and sharing the love for kayaking shows in our classes. We are proud of our instructors' ability to pinpoint troubles new students face and find solutions in various learning styles. We believe an instructor can make or break a beginning kayaker's experience, so we only hire the best. Importantly, we want to share our passion and enthusiasm for whitewater kayaking with you.
Read More
TRIP REVIEW
---
"We did a 3 day intro to whitewater kayaking course with instructions Paul and Naomi. We went from absolute noobs to navigating a class III rapid in this short time thanks to their expert instruction. The course was comprehensive covering things like gear, safety, reading the river and of course manipulating your kayak. The passion for the sport and deep knowledge was evident in both instructors who freely shared their knowledge. Despite this being a group course they paid attention to each individual giving us feedback to help speed our learning. I highly recommend this course to anyone curious about the sport, I can't imagine having a better experience than this one."
- Chris & Lesley A. from Bonsall, CA
Read More