As a guide on the Main Salmon River in Idaho, some of my favorite times on this 6-day river adventure revolve around families. Creating an experience where families, from kids to grandparents, can spend time together sharing an adventure and bonding in a way that doesn't happen in normal day-to-day life is one of the most rewarding parts of my "job." Now that my nieces are old enough to join on a multi-day river adventure, the potential to witness them have this same experience is really exciting. Recently, I was talking to my brother about the possibility of his family joining one of our Main Salmon River trips, and he asked me a question that caught me off guard, "Will my girls have enough to do? Will they just get bored floating down the river?" My first reaction was, "What? Are you crazy? Oh my god, they will have so much fun!!! They will be blown away." However, I can understand my brother's question. As a father of two energetic, active pre-teens, he wants to make sure this river vacation will provide enough to keep his daughters engaged. This is not the first time I've heard a similar question. Since I truly believe that a Main Salmon River multi-day rafting adventure is one of the most amazing vacations a family can experience together, I'm going to explain why this multi-day river journey is so perfect for families.
First, rafting is fun. It's as simple as that. When you're travelling down the river, you get to swim, splash, laugh, and cheer. On Idaho's Salmon River, the water is warm and perfect for swimming, and there are plenty of opportunities to spend time out of the raft cooling off in the river. In addition to the guided rafts, everyone also has the chance to paddle their own inflatable kayak or stand-up-paddle board.
On our Main Salmon Trip, I love having kids in my raft. It seems like we spend the whole day laughing and goofing our way down the river. On one of our trips this past summer, guide Deanna Wall used the stack of sleeping pads (Paco Pads) to turn her raft into a literal bouncy house for a group of kids. The kids instantly named it the Paco Palace, and at any time of the day, we could look over and see at least five kids bouncing up on down on her boat. Months later, Deanna still giggles when someone mentions the Paco Palace.
Second, a multi-day river journey offers something new and spectacular every day. From the simplicity of awe-inspring scenery, to the sense of discovery when we take a side hike to explore an abandoned homestead the natural environment in Idaho's river canyons is continually changing and presenting us with new wonders. Every day offers a new discovery, from wildlife, to petroglyphs and more.
It is so amazing to watch kids disconnect from their phones and digital world, and soak up the natural experiences all around us in the river canyon. Parents are always worried that their kids will get bored and will want to end their trip earlier than six days. The reality is, their kids are never ready to get off the river and stop exploring. They always want to keep going.
The entertainment continues at camp. Most of our campsites resemble a beach vacation, complete with warm water and white sandy beaches. We'll even use the Paco Pads or the rafts to create hilarious water slides into the river.
Once we're done playing in the water, and folks are done burying each other in the sand, we'll break out the games (bocce ball, can jam, corn hole, spike ball). For the more introspective in the group, we have an extensive river library where everyone is welcome to read about the river canyon, its rich history of settlers, geology, wildlife, etc.
For the more relaxed in the group, there is also plenty of time to kick back with a beverage and read a book while the sun sets in the background and the guide team cooks up a delicious meal.
Parents are truly on vacation. Most family vacations, while super fun, are also a lot of work for parents. You need to take care of lodging, activities, and meals, all while keeping the kids entertained. On a river trip, that's all taken care of by the guide team. We take care of the plans and activities for the day, plan the camps, and cook all of the meals. We've got you covered. All the parents need to do is actually be on vacation, relax, and enjoy the time with their family.
It is a really wonderful feeling to be in the camp kitchen working on an incredible dinner, and to look out over the beach to see parents kicking back with a beverage in hand, munching on appetizers, and looking totally, completely relaxed. When the children are having the time of their lives, and all of the logistics are taken care of … that's a vacation!
Finally, the bonding that occurs for families during this incredible shared experience is the most rewarding part of the entire vacation. Everyone on the trip has to put down their phones, let go of the work emails and the non-stop text messages from friends, and disconnect from the digital world. Without WIFI or cell phone reception to distract us, it is so much easier to be present and engaged in the moment, enjoying the experiences we are all sharing. From sleeping outside under the stars for the first time with the whole family, to challenging exciting rapids, to watching big horn sheep drinking at the water's edge while you eat breakfast, the experiences of a river journey create shared memories and a bond that can last a life time.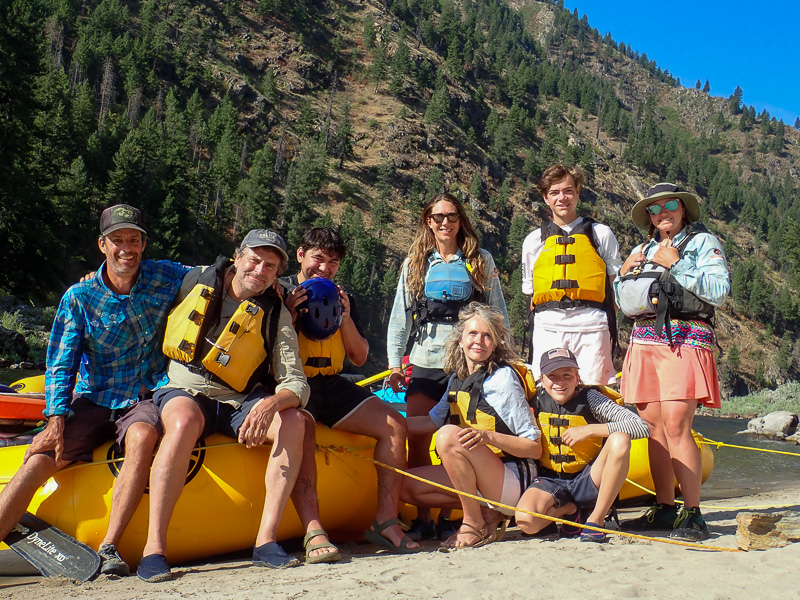 So, in answer to my brother's question – yes, there will be plenty to keep children of all ages entertained. At the end of six days, they won't be ready to be done. And, just as importantly, you will have been able to relax and enjoy an amazing vacations that your family will be talking about for years.
Join us for a Main Salmon River rafting adventure, kayaking trip, rafting and yoga retreat, or even a private family vacation. Check out some of our video from the Main Salmon River.
---
Author Todd Collins calls the White Salmon River valley home, and works year-round for Wet Planet as a raft guide, kayak instructor, and river rescue instructor.